Introduction of Acrobatic Show at Chaoyang Theatre
Chinese acrobatics is a pearl in the treasure house and ranks among the best arts in the world, The history of acrobatic show has been existent for more than two thousand years. Since the middle of this century, great efforts to foster and develop national arts and acrobatics have gained a new life.
The acrobatic shows is characterized by feats of strength and daring performed cleverly, precisely and accurately, and the ability of retaining balance in motion. To become a competent acrobat, students must has long stressed the basic training of the waist and legs from the time they are only 6 or 7 years old. Because the techniques employed in acrobatics are extremely difficult and risky, students must endure a good deal of pains for their gain.
Chinese acrobatics has maintained a strict master-apprentice system and has been closely related to other forms of the performing arts. Chinese acrobatics is an art that was handed down from one generation of a family to another, as well as from master to apprentice. Some Chinese localities are celebrated for acrobatics.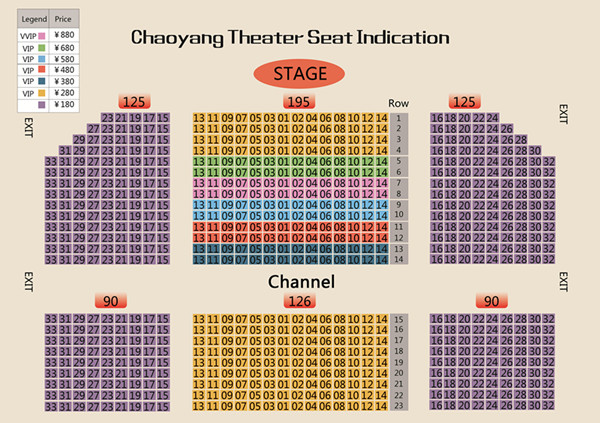 Ticket Pricing

Full Price

Online Price


Rows 1-4,15-23

; 280RMB

220RMB


Rows 13-14

; 380RMB

330RMB


Rows 11-12

; 480RMB

420RMB


Rows 9-10

; 580RMB

500RMB


Rows 5-6

; 680RMB

600RMB


Rows 7-8

; 880RMB

750RMB


Purple Zone

; 180RMB

180RMB

How to booking the show ticket
Welcome to booking acrobatic tickets online, or [email protected]. Booking information require: Theatre, Show, Date, Tickets, Your Name and Mobile Phone.
Confirmation tickets and prices
We will confirm the tickets and seats booking within 5 minutes, When your booked is confirmed, you will receive a confirmation email, which includes the confirmed detailed ticket with prices.
Ticket Collection and Payment
Seat reservation and discount ticket booking service — online payment through secure PayPal payment. Full refund guaranteed for cancellations up to two hours before show starts.
How to get there?
Beijing Subway: Hujialou station. In Chinese: ????.
Loop line 10 (color: light blue) & rapid transit rail line 6 (color: light brown).
Take "Exit C1" (turn left after your exit and walk a few meters).
Cancellation Policy
Full refund for cancellations - up to two hours before your show starts. Changes to booking free of charge, please email us as soon as possible!
Tips
1. Bookings are not for a specific seat number. Come to pick up your tickets 30 minutes before the show starts to get the best possible seats for your section.
2. Bookings close two hours before - if you show up without a booking number you will have to pay full price if there are available seats - show is very popular!


Acrobatic Show Gallery