Harbin Ice & Snow World
Post Date: 2020/05/25 10:40
Share to: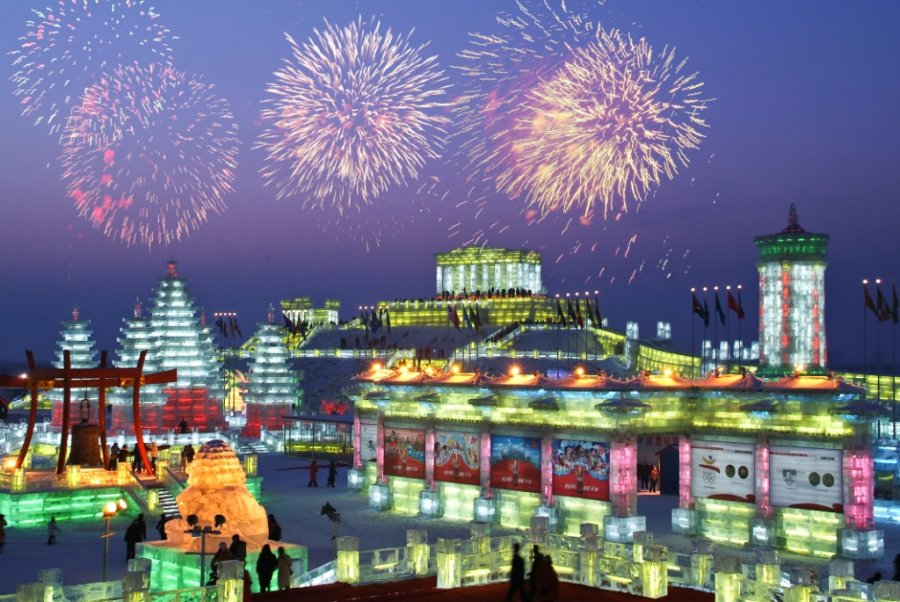 First built in 1999 by government to welcome the new millennium 2000, Harbin Ice and Snow World is the main venue of Harbin Ice and Snow Festival. With the development of 16 years, it becomes the largest ice and snow amusement park in the world with an area of 600,000 square meters. It is also the irreplaceable landmark of Harbin City and worldwide known ice and snow tourism brand. There are more than one million tourists visiting Harbin Ice and Snow World and more than 2,000 ice sculptures on display and more than 30 recreational activities taking place.
Wonderful Review of the Harbin Ice and Snow World in the Recent Years
In 2016, the theme of Harbin Ice and Snow World was "Ice Silk Road and Snow China", including four parts of the charm of ice building, adventure in silk road, snow Olympic and Longjiang impression.
In 2015, Harbin Ice and Snow World was themed as "Holy Land of Snow Kingdom and Sightseeing from Ice Heaven" and the images of "ice & snow angels" could be found easily.
In 2014, the theme was "Fairyland" and famous cartoon and comic characters sculpture are shown on the park, like Angry Bird from Finland, Flying Dog Webber from Germany, Rubber Duck from Netherlands etc.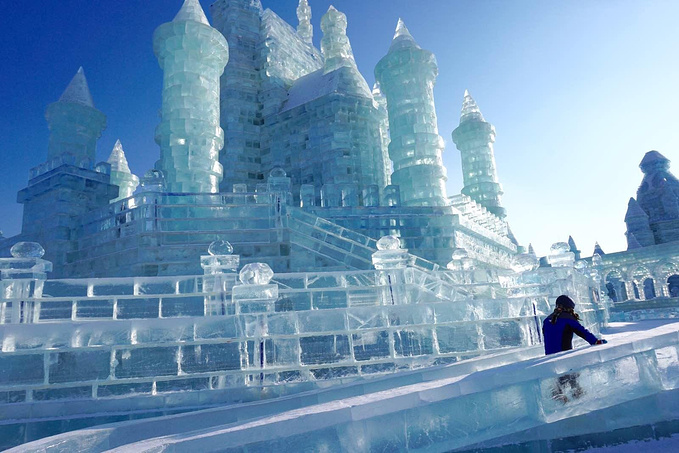 Highlights of Harbin Ice and Snow World
Admiring Gorgeous Ice and Snow Structures
In every year, one different theme will be set in Harbin Ice and Snow World. According to the theme, different buildings will be constructed. As you enter into Ice and Snow World, you will be amazed by such a wonder-like park from block of ice and snow. These sculptures are often record-breaking in size. Some structures are over three stories high and show very intricate designs. The scenery in front of you is so mind-blowing and visually magnificent, making a highlight of you China trip during winter.
Arrive at the park before sunset and you will get an opportunity to observe the ice structures clearly before they are lit. Impressive as they are during the daytime, at night they become magic. The multicolored lights embedded in the ground illuminate the ice structures, showing a completely different colorful dimension. These light illuminations of the ice add a surreal kaleidoscope of color to northeastern China's bitter winters. Against the dark night sky, the bright and dazzling lights look more astonishing.
Savoring the Exquisite Art
Hundreds of ice engravings and snow sculptures in large scale will be exhibited, containing some award-winning works in international competition. The exhibition is made up of international ice engraving combination, ice and snow LED lighting competition, ice and snow photography show, ice and snow oil painting show and some other forms of art theming in ice and snow. The most marvelous is the ice carving in different shapes. In 2005, tourists got a delightful surprise by seeing the colored icy shapes in the Colorful Wonderland. It was the first colored ice engraving exhibition in Harbin Ice and Snow World. Four themed parts including Christmas, New Year Pictures, Quintessence of Chinese Culture and Ancient Buildings will make you hesitate to leave. Only by visiting by Harbin Ice and Snow World, you can savor the exquisite art some of which enjoy the highest-level artistic taste and technology.
Enjoying the Ice and Snow Performance
In general, there are four performances one day occurring in a warm room among the ice and snow. The performance stage is built with meticulous design with a standard stage in front and an icy stage back. The performances include fascinating figure skating, cool LED hip-hop, romantic ballroom dancing, and hot dance...The whole show with European Flavor is full of freedom, liveliness and strong infection. Incredible colors combined with energetic music give enough visual impact and listening pleasure. They show the characteristics of western art and eastern art, the collision of open and restraining as well as the intertexture of fantasy and reality. The show schedule varies depending on the weather and sometimes you need queue. The site of performance is Cool Harbin Show Field.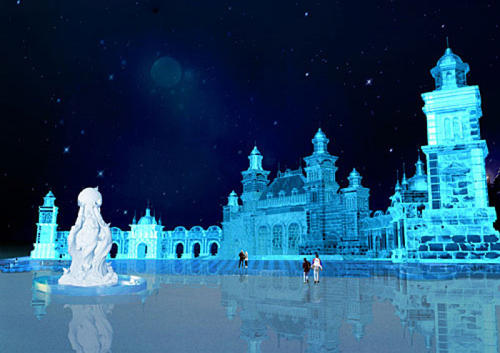 Joining Ice and Snow Activities
Apart from feasting your eyes on the amazing colorful illuminated ice and snow sculptures and wonderful performance, you can also take part in various interesting cultural activities and winter sports. The recreation area always covers about 200,000 square meters, over 20 options. Ice sports includes skating, curling, sleighing, ice biking, ice slide, spinning top on ice etc. while snow sports includes skiing, snow football, snow circling, making a snowman, making snowballs and throwing snowballs...
The 350-meter long ice slide in the 17th Ice and Snow World is the enthusiasm of the players, by which you will have a feeling of speed and passion. Ice and Snow Worldis a good choice for a family outing in the winter for there is a Parent-kid Paradise in which parents and kids can have a good time to play together and get a close contact with nature.
Indoor Ice and Snow Paradise
The Ice and Snow World is only open during the Ice and Snow Festival. If you plan to visit Harbin in other other seasons, such as Summer and Autumn, you can take the indoor Ice and Snow Paradise as a substitution. Occupying an area of 6,000 square meters, the indoor Ice and Snow Paradise is newly built in the scenic area of the Ice and Snow World. It can be visited all the year around. Even in summer, the temperature in the Ice and Snow Paradise keeps about -10?~-8?. Despite much smaller the Ice and Snow World, it offers magnificent ice and snow sculptures, colorful lanterns, exquisite ice artworks, cultural activities and winter sports as well.