Beijing is the capital city as well as cultural center of China. Beijing has a profound culture. Beijing containing the cultural heritage of 5,000 history of China, absorbing the exploding knowledge of the current society, and foretelling the scenarios of the future development. If you are an out-comer, you might find it hard to locate a portal for merging into the melting pot of Beijing culture, as the culture in Beijing is so complicated and elaborate that it deserves a life time to probe into. As the capital for several ancient dynasties, Beijing owns plenty of royal elements in its cultural system.
Beiing Opera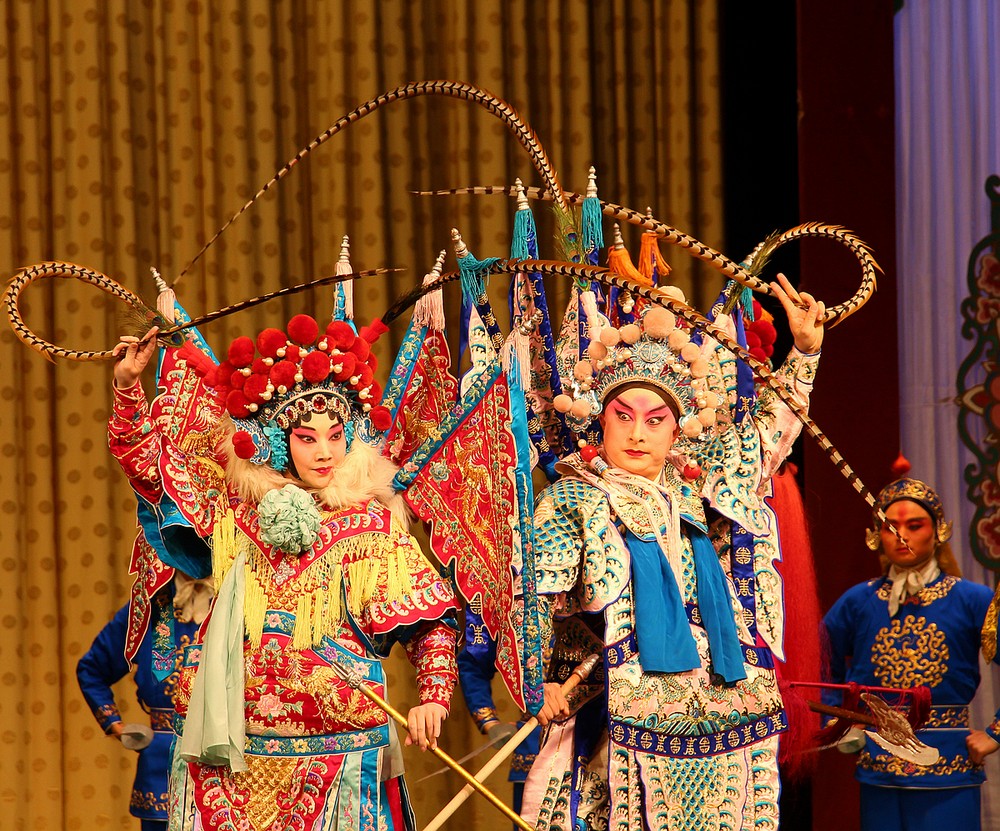 Beijing Opera all known as Peking Opera is most famous cultural attraction in Beijing, which represents the finest combination of music, vocal performance, mime, dance and acrobatics. The history of Beijing Opera can date back to 18th century, more than 200 years. It was originated from Xi Pi and Er Huang melodies from the base of it arias from the Hubei and Anhui provinces respectively, and became popular in the mid-nineteenth century when it was patronized by the Qing Dynasty court in the capital city, Beijing.

Characteristics in Beijing Opera
Face painting in Chinese Opera are the representations of roles being played by each artist. Speaking of red face usually depicts heroic bravery, uprightness and loyalty, with white face representing a sinister, treacherous and guile character, while stubbornness, impetuosity and lack of self-restraint go for the green.
It is also known as "Pi Huang Opera" from the Xipi and Erhuang melodies which are indicated by Ban and Yan. The Accented or Strong beat is the Ban whiles the unaccented or week beat is the Yan.Tunes like Sipingdiao from Sichuan Opera, Gaobozi an Chuiqiang from Anhui are also used in Beijing Opera
The theme of Beijing Opera mostly based on political and military struggle of historical events, popular fiction and Chinese legends with over 1,000 storylines.

Costumes for Beijing Opera is called Xingtou or Xifu which originated back in the mid-14th century which impress audience with the bright colors and magnificent embroidery.The use of colors indicate different social status: yellow for the imperial family, red for high nobility, red or blue for upright men, white for old officials, and black for each role. A student usually wears a blue gown, a general wears padded armor, and an emperor wears a dragon robe. Besides gorgeous clothes and headdresses, jewelry girdles for men and hair ornaments for women are also used in Beijing Opera.
There are 4 main actors' roles sheng, dan, jing, chou which are further sub-divided:
1.sheng - leading male roles: laosheng( bearded old men), xiaosheng( young men), wensheng( public servants, scholars and sages), wusheng( soldiers )
2.dan - female roles: laodan( older women), qingyi( costumed aristocrats), daomadan( Chinese Amanzons), caidan( female comcis);
3.jing - painted face parts of warriors, demons, statesmen.
4.chou - the clown.
Hutong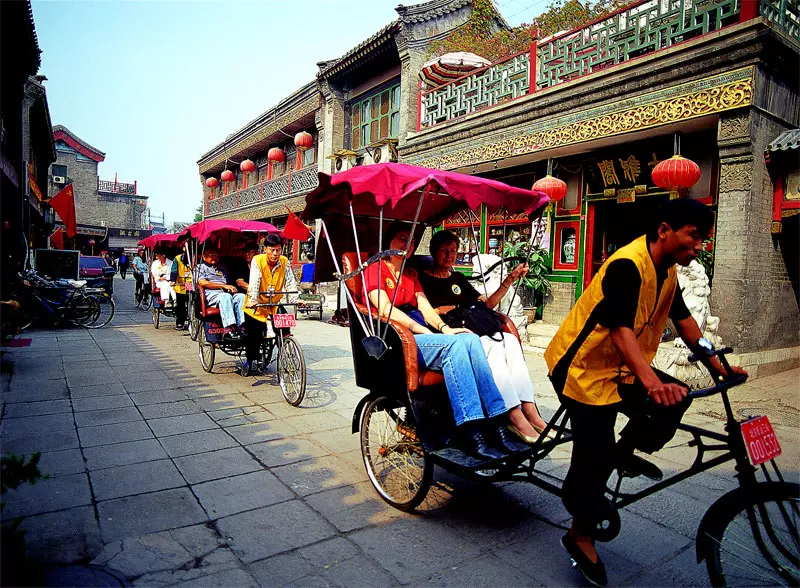 Hutongs, which refer to the alleys in the suburban areas of Beijing built during the Yuan, Ming and Qing dynasties of China. These hutongs give you a wonderful glimpse into the past, the old way of life and traditional Beijing culture. They have witnessed the dramatic changes of Beijing in the past centuries.
Actually Hutong means an alley, formed by rows of traditional courtyard houses where old Beijing residents lived. The word "hutong" originates in the word "hottog" which means "a well" in Mongolian, in ancient times villagers dug a well and lived around it.

Beijing hutongs differ from one another: in east-west or north-south direction, sloped, half or "blind hutongs", or cul-de-sacs. The gray-tiled houses and alleys crossing with each other in identical appearance are like a maze, it is fun to walk through them but be careful not to get lost.


Hutong is in these gray-tiled long lanes that families play, buy goods, gossip, and connect. In Beijing Locals' eyes, hutong means a period of history, where numerous intriguing and unknown stories happened. Lodging in these hutongs were not only ordinary citizens but also famed people such as Lu Xu, Lao She, Qi Baishi and etc.
Now many famous dramas are based on the themes of the life in the hutongs, such as the Teahouse, written by Mr. Lao She, one of the most famous writers before and after the foundation of the People's Republic of China.
There are still lots of residential courtyard houses existing and being used by today's people, but hutongs formed by these buildings are mainly located in Beijing's Dongcheng and Xicheng Districts today. Beijing has transformed in the past centuries, but something traditional still remains to wait for the coming generations to discover.