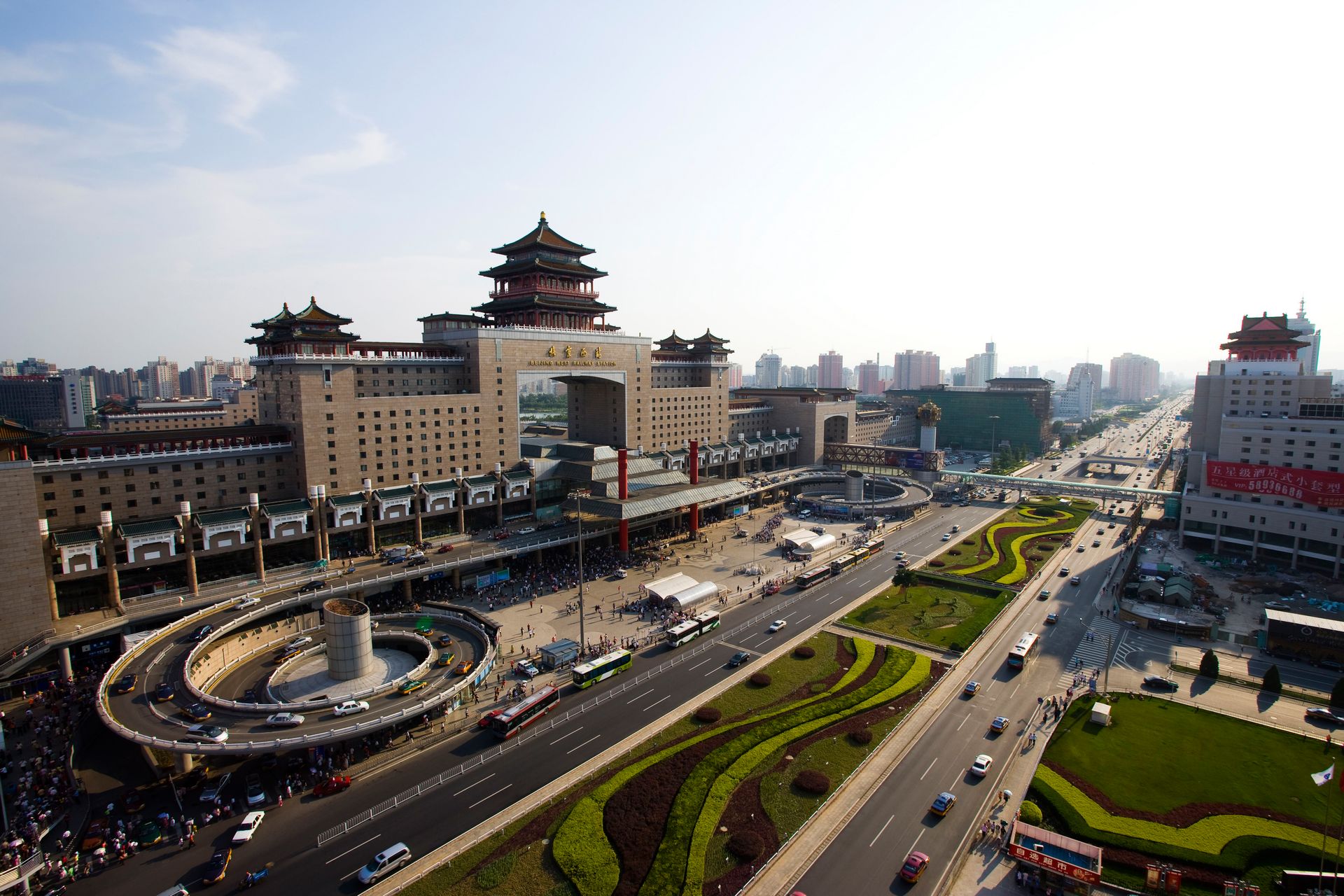 Overview
Beijing is a well-known transportation hub of communcations with roads, highways, railroads and flights connecting all parts of China as well as the major cities around the wourld, has a well-developed transportation system. As an inland city, there are several methods of transportation from which to choose to get to Beijing: plane, train and long-distance bus. It's very convenient for tourists.

The public transport in Beijing started slowly. The first trolley car appeared in the city in 1924, and during the next 30 years, there were fewer than 100 trolleys altogether. It was extremely hard for people to travel around the city at that time. In 1949, only 49 were in good condition and rest of them didn't work. It was not until 1949 that the condition began to improve speedily. Now, after 58 years of development, there are over 1,300 public bus routes and 4 subway lines taking passengers to every corner of the city conveniently.
Beijing Capital Airport is the largest international airport in the country. Centered on Beijing, a complex railway net has been formed that leads to cities far and near in China. In addition, there are 12 national highways and 9 speedways radiating out in all directions.

How to Get in Beijing
By Air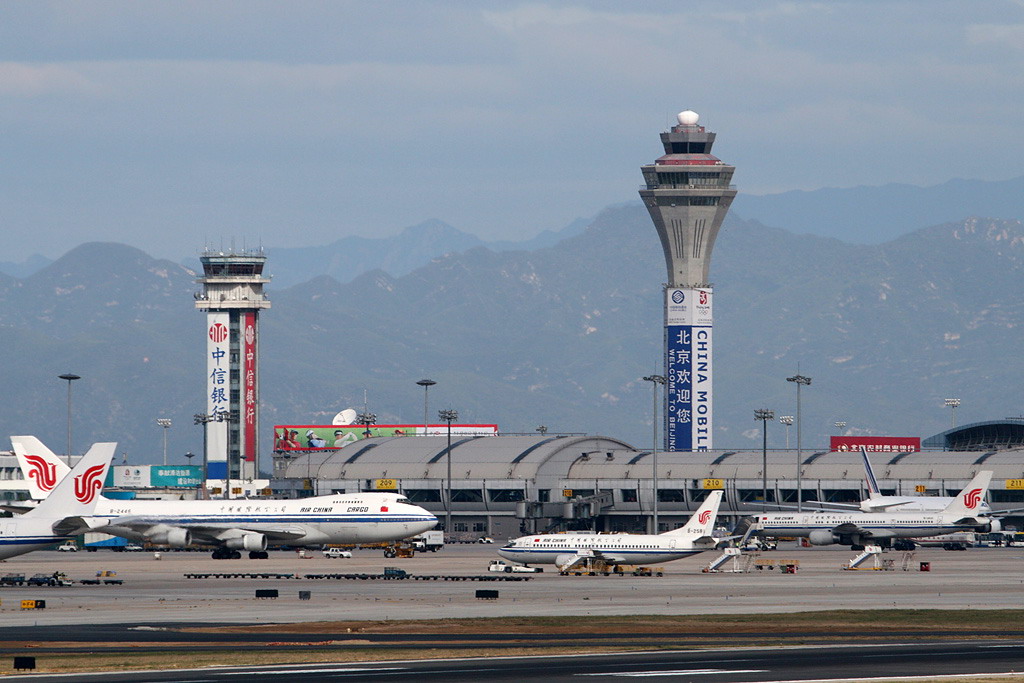 There are several Airports in Beijing, but Beijing Capital International Airport & Beijing Daxing International Airport are the main airports, they run the domestic & international flights. Mostly International flights will departure & land at Beijing Capital International Airport.

Beijing Capital International Airport (IATA): about 20 kilometres (12 mi) northeast of the city centre. The airport is the second busiest airport in the world After renovations for the 2008 Olympics, the airport now boasts three terminals, with Terminal 3 being one of the largest in the world. Most domestic and nearly all international flights arrive at and depart from Capital Airport. It is the main hub for Air China and a hub for China-Southern and Hainan Airlines. The airport links Beijing with almost every other Chinese city with regular air passenger service.
The Airport Expressway links the airport to central Beijing; it is a roughly 40-minute drive from the city centre during good traffic conditions. Prior to the 2008 Olympics, the 2nd Airport Expressway was built to the airport, as well as a light rail system, which now connects to the Beijing Subway.
Beijing Daxing International Airport:
Other airports in the city include Liangxiang, Xijiao, Shahe and Badaling. These airports are primarily for military use and are less well known to the public. Nanyuan serves as the hub for only one passenger airline. A second international airport, to be called Beijing Daxing International Airport, is currently being built in Daxing District, and is expected to be open by 2017.
As of 1 January 2013, tourists from 45 countries are permitted a 72-hour visa-free stay in Beijing. The 45 countries include Singapore, Japan, the United States, Canada, all EU and EEA countries (except Norway and Liechtenstein), Switzerland, Brazil, Argentina and Australia. The programme benefits transit and business travellers with the 72 hours calculated starting from the moment visitors receive their transit stay permits rather than the time of their plane's arrival. Foreign visitors are not permitted to leave Beijing for other Chinese cities during the 72 hours.


By Train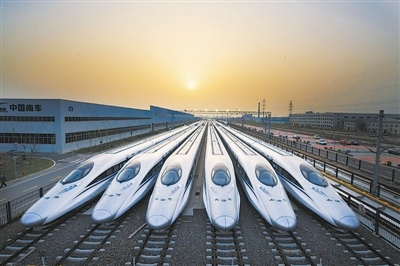 Beijing serves as a large rail hub in Chia's railway network. Ten conventional rail lines radiate from the city to:Shanghai, Guangzhou, Kowloon, Harbin, Qinhuangdao, Inner Mongliaa and Hebei. In addition, the Datong- Qinhuangdao Railway passes through the muncipality to the north of the city.

Beijing also has three high-speed rail.The city's main railway stations are the Beijing Railway Station, which opened in 1959; the Beijing West Railway Station, which opened in 1996; and the Beijing South Railway Station, which was rebuilt into the city's high-speed railway station in 2008. As of 1 July 2010, Beijing Railway Station had 173 trains arriving daily, Beijing West had 232 trains and Beijing South had 163. The Beijing North Railway Station, first built in 1909 and expanded in 2009, had 22 trains.
From Beijing, direct passenger train service is available to most large cities in China. International train service is available to Mongolia, Russia, Vietnam and North Korea. Passenger trains in China are numbered according to their direction in relation to Beijing.


How to Get around Beijing
Subway
It's very convenient and cheap to use public transpotation in Beijing City. The Beijing Subway put into use in 1969 and it is the second longest subway system on the world and first in aunual ridership with 3.66 billion rides delivered in 2016. And now has 19 lines, 345 stations, and 574 km (357 mi) of lines. In 2013, with a flat fare of 2 yuan (0.31 USD) per ride with unlimited transfers on all lines except the Airport Express, the subway was also the most affordable rapid transit system in China. The subway is undergoing rapid expansion and is expected to reach 30 lines, 450 stations, 1,050 kilometres (650 mi) in length by 2020. When fully implemented, 95% residents inside the Fourth Ring Road will be able walk to a station in 15 minutes. The Beijing Suburban Railway provides commuter rail service to outlying suburbs of the municipality.
On December 28, 2014, the Beijing Subway switched to a distance-based fare system from a fixed fare for all lines except the Airport Express. Under the new system a trip under 6 km will cost 3yuan (0.49 USD), an additional 1yuan will be added for the next 6 kilometres (3.7 miles) and the next 10 kilometres (6.2 miles) until the distance for the trip reaches 32 kilometres (20 miles). For every 20 kilometres (12 miles) after the original 32 kilometres (20 miles) an additional 1yuan is added. For example, a 50 kilometres (31 miles) trip would cost 8 yuan.
Public Buses
There are nearly 1,000 public bus and trolley bus lines in the city, including four bus rapid transit lines. Standard bus fares are as low as ?1.00 when purchased with the Yikatong metrocard.

Taxi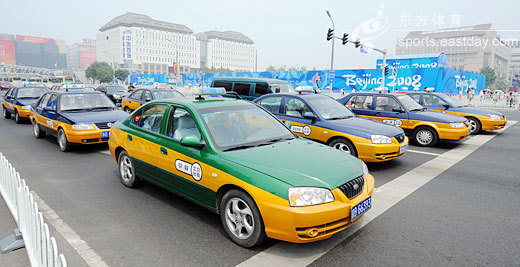 Metered taxi in Beijing start at ?13 for the first 3 kilometres (1.9 mi), ?2.3RMB per additional 1 kilometre (0.62 mi) and ?1 per ride fuel surcharge, not counting idling fees which are ?2.3 (?4.6 during rush hours of 7–9 am and 5–7 pm) per 5 minutes of standing or running at speeds lower than 12 kilometres per hour (7.5 mph). After 15 kilometres (9.3 mi), the base fare increases by 50% (but is only applied to the portion over that distance). Different companies have special colours combinations painted on their vehicles. Usually registered taxis have yellowish brown as basic hue, with another color of Prussian blue, hunter green, white, umber, tyrian purple, rufous, or sea green. Between 11 pm and 5 am, there is also a 20% fee increase. Rides over 15 km (9 mi) and between 23:00 and 06:00 incur both charges, for a total increase of 80%. Tolls during trip should be covered by customers and the costs of trips beyond Beijing city limits should be negotiated with the driver. The cost of unregistered taxis is also subject to negotiation with the driver.

Bicycles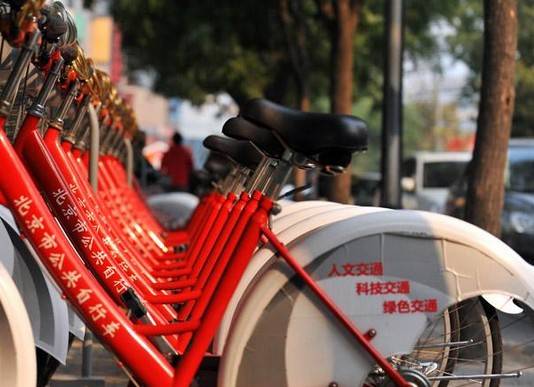 Beijing has long been well known for the number of bicycles on its streets. Although the rise of motor traffic has created a great deal of congestion and bicycle use has declined, bicycles are still an important form of local transportation. Large numbers of cyclists can be seen on most roads in the city, and most of the main roads have dedicated bicycle lanes. Beijing is relatively flat, which makes cycling convenient. The rise of electric bicycles and electric scooters, which have similar speeds and use the same cycle lanes, may have brought about a revival in bicycle-speed two-wheeled transport. It is possible to cycle to most parts of the city. Because of the growing traffic congestion, the authorities have indicated more than once that they wish to encourage cycling, but it is not clear whether there is sufficient will to translate that into action on a significant scale.Recently, cycling has seen a resurgence in popularity thanks to the emergence of a large number of dockless app based bikeshares such as Mobike, Bluegogo and Ofo.