Overview:
Beijing is the capital city of China, it's a leading center of the policy, economy as well as culture. Therefore, Beijing is one of the popular tourist destinations of the World. Here offers a variety of food which is ready to cater to almost every possible appetite. It is one of the eight most famous regional cuisines in China, not only features dishes made from the imperial recipes, but also recipes invented by private chefs hired to work in the residences of high-ranking officials at the imperial courts. Beijing cuisine enjoys international fame for the variety of dishes developed in the imperial kitchens of several dynasties. Food in Beijing also boasts other exotic cuisines home and abroad. Other Chinese cuisine, each having a distinctive flavor, give a wide scope for diners to choose to one's taste.
Beijing Famous Food
Beijing Roast Duck

Beijing roast duck has the reputation of being the most delicious food in Beijing. Esteemed by gourmets for its mouth-watering aroma,tempting appearance and delicate taste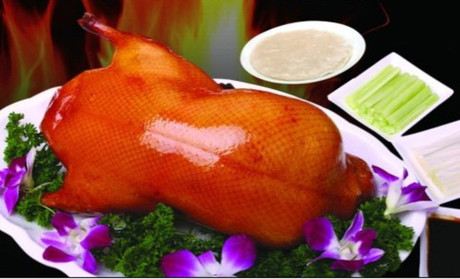 there are secrets in the cooking, skill in the preparation and serving and delight in the tasting.Eating Beijing doast duck is also one of the two things you are absolutely supposed to do while in Beijing-- the other one is climbing the Great Wall. The hometown of roasted duck is actually Nanjing city of Jiangsu province in East China. In the 19th year (1421) during the Yongle reign of the Ming Dynasty (1368-1644), the emperor moved the capital from Nanjing to Beijing, and hence roasted duck was introduced to Beijing and became an imperial dish. With the passing of time, Beijing roasted duck entered into the international cuisine, its unique and delicious taste favoured foreign tourists as well as by Chinese people.

Beijing ducks are called force-fed ducks, which are raised for the sole purpose of making the food. Force-fed, they are kept in cages which restrain them from moving about, so as to fatten them up and make the meat comparably tender.
Beijing roast duck is always served in well-cut slices. The chef cuts the meat into thin slices, each having a piece of skin and perfect with the complete layers of the meat. Then the meat is served with very thin pancakes, Chinese onions and special sauce -- usually sweet bean sauce. The way to eat it is to coat the thin pancake with sauce, slap on a few pieces of meat and roll up the pancake. Chopsticks are optional: it is much easier just to grab the thing with your bare hands. Normally there are many dishes served with the duck, including a dish of fine-cut shallot bars, a dish of cucumber bars and finally a dish of paste-like soy of fermented wheat flour. The dinner usually ends with a rich cream-colored duck soup made from the duck.
Beijing Hot Pot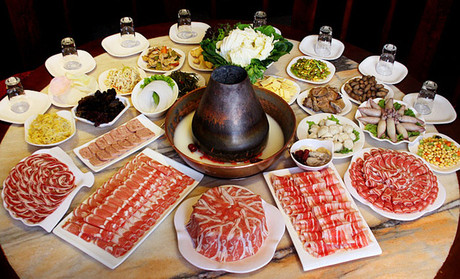 Hot Pot has been around over 1,000 years and spread throughout China. Thus, different regions have used hot pot to fit their local tastes. Beijing Hot Pot has brought the Beijing style of hot pot to Portland. As we know, Beijing Hot Pot is the only authentic one in Portland metro area. The specialties of Beijing Hot Pot is the handmade noodle, dumpling (pot sticker), and shrimp balls. They make thier dumpling from scratch, and even roll each wrapper individually. All the dipping sauces, including the hot sauce, are homemade as well. The hot pot is not only for winter, also suitable for summer as the broth and ingredients are modified to reduce your " internal body heat" during summer time. Everyone can enjoy Hot Pot, for vegetarian as well.

How to eat Hot Pot
There are some ways to enjoy the hot pot. Each of them is easy to handle even you are a green hand.
Here is one of the easiest ways to eat.At first, pour the water, the best choice is the soup cooked by some nutritious food such as the pork bone, into the pot. Once the water or soup is boiled, you can begin your hot pot experience. Use the chopsticks to pick up a piece of beef, mutton, fish, vegetable, even a dumpling if you have ordered, put them into the boiled water and cook for a few seconds to minutes till they can be eaten in the right time.After this series of actions, you can pick up you food from the pot. Before you put them into your mouth, do not forget to dip the sauce which will make the food more delicious.

Tan Imperial Food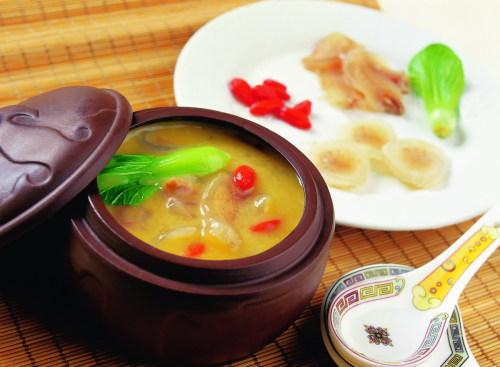 Imperial Court Food is a branch of Beijing Cuisine. Food of this kind was once only prepared for the members of the imperial court and was not accessible to ordinary people. Now, money permitting, you can have a taste of the Royal Feast of Complete Manchu-Han Courses, a most bounteous feast of Imperial Court Food. Not only features dishes made from the imperial recipes, but also recipes invented by private chefs hired to work in the residences of high-ranking officials at the imperial courts. Tan Imperial Food is one of the latter that have been well preserved. It came from Tan Zongjun and his son who were both government officials in the late Qing Dynasty. It has won high praises because: its taste is moderate and therefore, fits the palates of the south and the north; and it emphasizes original flavour and original ingredients so little seasoning is used.

Features of Tan Food
Tan's imperial cuisine is not an extreme taste. It does not have the strong and intense sour flavors of Guizhou province; the boldness of Hunan's chili peppers; the lip numbing effect of Sichuan peppercorn; nor the earthy pickles of Hakka cuisine. The cooking idea that lies in Tan's dishes is cookery without boundaries.
Although they use two basic seasoning – salt and sugar – to cook, the various tastes still exist in this kind of dishes. Old chicken, old duck, pork bone, ham and scallops which have cooked for many hours to make a pot of rich creamy broth are the essence of this cuisine.The food of this cuisine is soft and easy to digest. The usual cooking methods for these dishes are stewing, steaming and braising. These cooking processes make the dishes more suitable and healthy for the diners.
Beijing Famous Snack
Wheaten Cake Boiled in Meat Mroth (????)
Wheaten cake boiled in meat broth, called "Lu Zhu Huo Shao" in Chinese, is a kind of traditional snack in Beijing, dating back 100 years to the Qing Dynasty (1644-1911). Baked wheaten bread, pork chop, tofu, pork lung and chitterlings are cut into pieces and then boiled in the preserved meat broth. It is served with chili oil, fermented tofu, mashed garlic, vinegar, coriander and chives. This snack was quite popular among the ordinary people in the old days, for meat was too expensive for them while the offal became a cheaper choice to eat meat. Native Beijingers love "Lu Zhu Huo Shao" very much.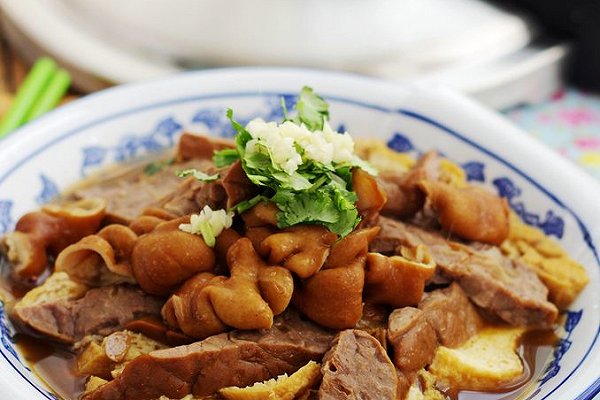 Where to eat: there are innumerable restaurants serving Wheaten Cake Boiled in Meat Mroth in Beijing. One of the most famous one is the century-old "Xiao Chang Chen". If you have local friends in Beijing or you have private tour guide while touring in Beijing, you can ask them to take you to taste the most authentic one in the city.

Fried Beef Tripe (??)
Fried Beef Tripe, or called Bao Du in Chinese, has been a traditional snack in Beijing since the era of Emperor Qianlong (1735-1795) in Qing Dynasty. It is a general name of the snack and it can be called as Lamb Bao Du or Beef Bao Du, for it is mainly made and served by the Hui people. The most important ingredient of the snack is fresh lamb tripe or beef tripe. First of all, lamb tripe or beef tripe should be completely cleaned and then cut into slices before it is cooked in boiling water. It is often served with oil, spring onion, vinegar, chili oil, scallions, coriander, sesame sauce, soy sauce, fermented tofu juice and other seasonings. The snack tastes crispy and tender, and the local often eat it with beer, Er Guo Tou or other alcohol.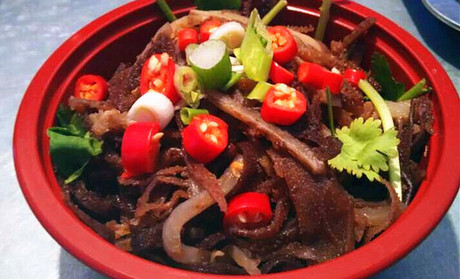 Where to eat: the most famous restaurants serving Fried Beef Tripe include Bao Du Shi near Beijing Overpass, Bao Du Wang near Dong An Market, Bao Du Zhang in Dong Xing Shun, Bao Du Feng in Qianmen Street, Bao Do Yang in Men Kuang Hutong, etc. The names of them are made of the names of the snack and the family name of the owner.

Rolling Donkey (???)
Rolling Donkey, or called Lv Da Gun in Chinese, is a traditional snack with in Beijing and Tianjin area. The history of it is over one hundred years and can be traced to the Qing Dynasty. It belongs to a kind of cake and usually has three colors, yellow, white and red. It tastes sweet and a little sticky, with a very nice bean flavor. The main ingredient includes millet flour, soy bean flour, sweetened bean paste, sugar, sesame oil, osmanthus, and melon seed. Rolling Donkey are steamed glutinous rice rolls filled with red bean paste or brown sugar that is then rolled and covered in a soybean flour crumble.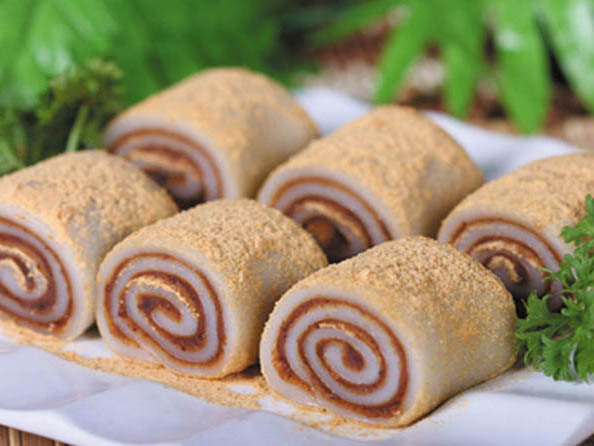 Where to eat: the famous places to taste authentic Rolling Donkey is in Jiu Men Snack Store, Laoshe Tea House in Qianmen Street and Minfu Restaurant.

Beijing Famous Restaurant
Quan Ju De (Peking Roast Duck)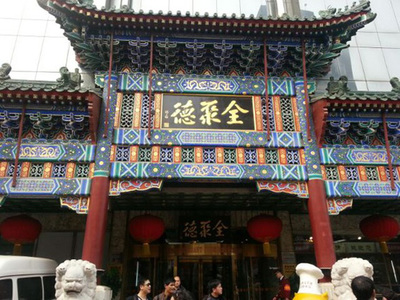 Founded in 1864, famous, authentic and delicious. It is nationally famous for its roast duck, reputed to be China's No.1 delicacy. This is one of the most famous chains of restaurants in Beijing to eat Beijing Roast Duck. So there are many Quanjude Roast Duck Restaurants in Beijing. But the most famous are the two headquarter Quanjude duck restaurants - one is Qianmen Quanjude Duck Restaurant and the other is Hepingmen Duck Restaurant.

Price: US$11-20
Add (1): No. 32, Qianmen Avenue,Xuanwu District
( Qianmen Quanjude Duck Restautant )
Tel: (86) 010--67011379, 65112418
Dong Lai Shun Hot Pot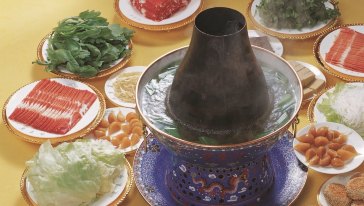 In the winter season, when chilly temperatures and frigid winds prevail over the land, people like to eat food that instantly warms their bodies and lifts their spirits. For that, the hot pot is a delicious and hearty choice. Families or groups of friends sit around a table and eat from a steaming pot in the middle, cooking and drinking and chatting. Eating hot pot is not a passive activity: diners must select morsels of prepared raw food from plates scattered around the table, place them in the pot, wait for them to cook, fish them out of the soup, dip them in the preferred sauce, and then eat them hot, fresh, and tender. Dong Lai Shun Hot Pot is the most famous hot pot chain restaurants in Beijing. Established in 1903,it becomes popular domestically and abroad for serving mutton hot pot with unique national feature and gradually develops into a Muslim dishes system with 4 big series of cooking,frying,quickly frying,and roasting ,and over 200 kinds.

Add: Floor 5,Xin Dong'an Market,Wangfujing Avenue,Dongcheng District,Beijing
Tel:6528-0932

Jin Ding Xuan Restaurant: Dim Sum
It is a famous restaurant which makes the dishes typically Cantonese. Jin Ding Xuan is a 24 hours opend restaurant. Braise chiken foot, milky tea, Cantonese dim sum and much more. Jin Ting Xuan is the best dim sum place.

Price: US$11-20
Add: He Ping Li West Street No 77 ( On the south gate of Ditan )
tel 010 6429 6888