Inner Mongolia Travel Tips
Post Date: 2020/06/18 09:55
Share to:
Have no idea about how to visit Inner Mongolia in your first time visit? This is often happens for the first time travelers. Inner Mongolia curves like a banana around China's northern border. Inner Mongolia is a large region stretched across the northern edge of China. It has a relatively low population density the majority of which are Han Chinese. About 17% of the population is ethnic Mongolian. The region is officially an Autonomous Region for the Mongolian people within China. The east of Inner Mongolia consists of wide grass meadow lands, forests and mountains. The west of the region is made up of scorching hot dry deserts. Traditional Mongolian nomadic lifestyle can still be seen in the region and yurts (mongolian tents) are not an uncommon sight in the wide spaces between the cities. Despite the fact that ethnic Mongols form a minority in the region, the number of ethnic Mongols holding Chinese citizenship is almost twice the population of the independent country of Mongolia. Plan a easy & memorable Inner Mongolia trip through the following Inner Mongolia Travel Tips: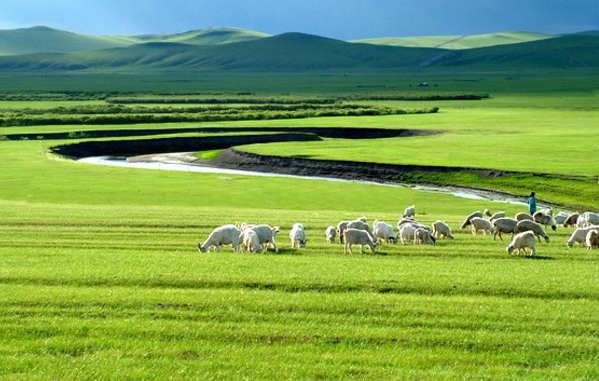 Best Time to Visit Inner Mongolia
The best time to travel to visit Inner Mongolia is summer, from May to August. July is highly recommended since the Naadam festival will held that time. During this time athletes will compete in wrestling, archery and horse racing in grasslands across the region. Inner Mongolia can get very cold in the winter and travel plans can be affected by snow or blizzards so avoid this period if you can help it.

Inner Mongolia has a big temperature difference between the daytime & night. The region's proximity to the desert means it can be very warm during the day but become very cold at night and in the early morning. Bring a good mix of clothing for this range of temperatures. The sunlight is very strong, you will experience a lot of direct sunlight in Inner Mongolia's vast expanses so don't forget sunscreen, sunglasses, a hat and some lip balm as it can get very dry. A pair of comfortable sport shoes is needed.


Visa & Currency
Inner Mongolia as one part of China, the currency here is the renminbi (RMB), so there are no worries about changing your cash to some obscure currency. As with the rest of the mainland, a China visa is required to get into the country. Credit cards also available in some big shopping mall, hotels, restaurants.


Inner Mongolia Cuisine
Traditional Mongolian food is found throughout Inner Mongolia. This is typically high in dairy produce such as milk, yoghurt and cheese. The traditional Mongolian milk tea is exceptionally good. Meats, especially lamb, form most meals. The meat is usually roasted with a coating of spices to give a strong distinctive flavor. Similar with many areas of China, the hotpot is a popular style of cooking. Mongolian hotpot usually has a well flavored soup but without the hot spices of central China.

The most common truly Mongolian dishes include Mongolian hotpot, hand-held mutton, the succulent roast leg of lamb and a large variety of other mutton or lamb dishes.


Accommodation in Inner Mongolia
When you visualize Mongolian accommodation, you can't help but think of yurts, those emminently portable cylindrical-shaped tents once used by nomads to move around the great prairies to find grazing for their herd. The locals, incidentally, mostly live in stone or concrete structures these days, and the yurts seem more for the eyes of curious tourists, certainly near the cities. Luxury hotels are thin on the ground, although this situation is changing, with many esteemed brands looking to establish a base here.


Shopping
While many of China's cities grow increasingly expensive, it's still possible to snap up a bargain or two in Inner Mongolia if you're looking for a hip memento or two, particularly if you head to Lao Jie (Old Street) in Huhhot, where you can scour the dimly-lit, low-rise souvenir stores for bargains. On a more contemporary note, some major brands are moving into Huhhot including Nike, Swatch, Adidas and Levis. You'll find these brands in and around the vicinity of the Victory Shopping Centre, which is open until 8pm. In summer, when the grasslands are at their busiest, opening hours extend till 9pm.


Local Customs
Inner Mongolia has a lot of traditions and customs specific to the region, which may be useful to know if visiting a Mongolian family. Most guides will explain these to you once you are there but here are a few to look out for:

1) Do not walk through a flock or herd in the grasslands (walk around) as this is considered an offense to their owner;

2) It is customary for Mongolian families to serve visitors a bowl of milk tea. Accept this with both hands and knock your bowl with your spoon if you do not want a refill;

3) It is also custom for families to serve local liquor to their guests in welcome and to offer a toast. It is polite to accept the drink and thank the host even if you are not actually planning on drinking it;

4) Mongolian families will present guests with a hada (piece of silk) and sing a song of blessing as a sign of welcome. It is tradition to accept the hada with both hands and to thank the host by crossing your arms across your chest.