Beijing Water Cube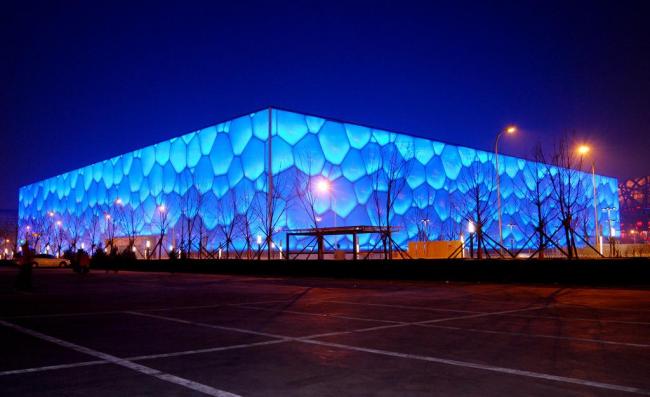 Introduction
The Beijing National Aquatics Center is known as the National Aquatics Center, and colloquially known as the Water Cube (Chinese: 水立方), is an aquatics center that was built alongside Beijing National Stadium in the Olympic Green for the swimming competitions of the 2008 Summer Olympics. Despite its nickname, the building is not an actual cube, but a rectangular box. Ground was broken on December 24, 2003, and the Center was completed and handed over for use on January 28, 2008.Swimmers at the Water Cube broke 25 world records during the 2008 Olympics. After the 2008 Olympics, the building turned half of its interior into a water park.


Events
The venue hosted the swimming, diving and synchronized swimming events during the Olympics, when it saw 21 world records tumbling down for 24 times. For this, it has been reputed as a "magic water cube" and an "Aquatic Hall of Fame".
Over the years, it has hosted the FINA/NVC Diving World Series (Beijing), FINA/Arena Swimming World Cup (Beijing), FINA Synchronized Swimming Grand Prix, and the World Women's Water Polo League Super Finals.

The Water Cube will be used for curling during the 2022 Winter Olympic Games


Architecture Design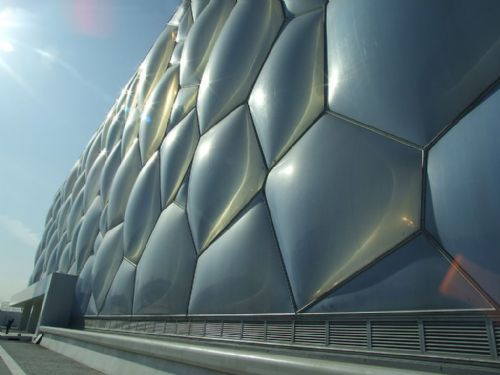 The Water Cube design was chosen from 10 proposals in an international architectural competition for the aquatic center project.The Water Cube was specially designed and built by a consortium made up of PTW Architects,Arup international engineering group, CSCEC (China State Construction Engineering Corporation), and CCDI (China Construction Design International) of Shanghai. The design of National Aquatics Center combines modern technologies with Chinese traditional values. In tradition, Chinese conceptualized a square Earth and a round Heaven, and this formed the design's central theme. Moreover,the cube shape dominates ancient urban buildings. Its design is of traditional style to meet all its functional requirements.

Designed by Chinese and Australian, the National Aquatics Center is the first building in the world built upon "the soap bubble" theory, and sports a polyhedral steel-framed structure.

The National Aquatics Center looks like a huge blue box, from which it takes its nickname: the Water Cube. It is blue in order to reflect sunlight. It shines in the sunlight like a pearl in water. From the inside, you may discover that the pneumatic cushions of all sizes are just like sea bubbles.
Information
Adimission Fee: CNY 30, CNY 15 for children between 1.2m-1.4m; Free for children under 1.2m
Opening Hours: 09:00-19:00 (Monday-Thursday), 09:00-17:00 (Friday-Sunday)
How to get there:
By Bus:
1. Take bus no.510 or 839 and get off at Beichenxi Bridge North Station;
2. Take bus no.386, 407, 656, 660, 689, 740, 753, 836 (fast line), 939, 944 (branch line), 983 or Yuntong113 and get off at Beichen Bridge West Station;
3. Take bus no.328, 379, 419, 425, 484, 518, 628, 751, 836, 851, 913, 949, 963 or Yuntong 110 and get off at Wali Nankou Station.
By Subway :
1. Subway line 8: get off at Olympic Sports Center Station
2. Subway line 10: get off at Beitucheng Station, transfer to subway line 8 and get off at Olympic Sports Center Station