Chengde Facts
Post Date: 2018/01/23 11:24
Share to: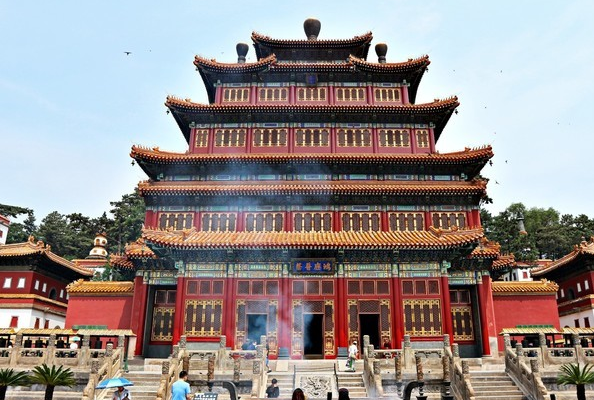 Population: 3,610,000
Area Code: 0314
City flower: rose
Main minority ethnic groups: Manchu and Mongolian
Location of Chengde
Chengde lies 250 km to the north-east of Beijing in Hebei Province. It was the favourite summer haunt of the Manchu emperors and was known in Manchu as Jehol.
History of Chengde
The Qianlong Emperor (r. 1735 - 1796) touring Chengde.In 1703, Chengde was chosen by the Kangxi Emperor as the location for his summer residence. Constructed throughout the eighteenth century, the Mountain Resort (literally "avoiding the heat mountain villa") was used by both the Yongzheng and Qianlong emperors. Since the seat of government followed the emperor, Chengde was a political center of the Chinese empire during these times.

Under the Republic of China, Chengde was the capital of Rehe province. From 1933 to 1945 the city was under Japanese control as a part of the Manchurian puppet state known as Manchukuo. After World War II the Kuomintang regained jurisdiction. In 1948, the People's Liberation Army took control of Chengde. It would remain a part of Rehe until 1955, when the province was abolished, and the city was incorporated into Hebei.
Chengde was the royal summer resort during the Qing Dynasty. Chengde Summer Resort, together with the temples around, was added to the World Heritage List by UNESCO in 1994. Mulan Paddock, Summer Resort, the Eight Temples `are of the highest class in China. It can be said that every attractions in Chengde is fascinated.

How to Get Around Chengde City
Both the internal and the external transportation of Chengde City are very well developed and although there is only a small-scale airport, chartered flights flying between there and Beijing will provide you more choices for your journey. In addition, railway and road links can connect you to many cities, such as Tianjin, Shenyang, Baotou, Ulanhot, Liaoning, and Inner Mongolia, etc. City buses provide a fine and integrated transport service; taxis are also a good choice due to their convenience and inexpensiveness.
Chengde Climate & Weather
With a diversity of climate types, the four seasons are distinct from each other in Chengde. The weather is cold in winter, dry in spring, rainy in summer and cool in autumn. The average annual temperature is about 9 degree. Generally speaking, the best time to visit Chengde is between April and October; however, visitors can experience different outlooks in different seasons as the variety of clime.
Best times to visit the Mountain Resort
To pass the summer: June to October
To go on a spring outing: April to May
To appreciate the scenery of red autumnal leaves: late October to middle November
To enjoy a beautiful snowy scenery: late January to middle February
Useful numbers:
Fire alarm: 119
Police: 110
Ambulance: 120
Consumer complaint: 12315
Tourist complaint: 0314-2024548

Some Institutions in Chengde City
Bank of China
Xinhua branch: No. 1, Building A, Xinhuayuan

Hospital
Central Hospital: No. 22, Xi Dajie, Shuangqiao District

Post office
Nanyingzi branch: No. 27, Nanyingzi Dajie, Shuangqiao District