Beijing Confucius Temple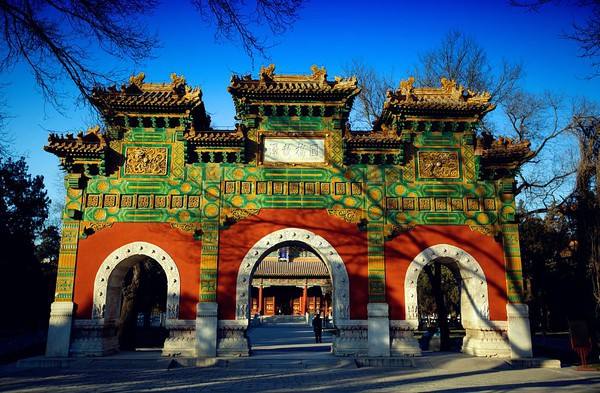 Introduction
Beijing Confucius Temple is the second largest Confucian Temple in China, after the one in Confucius' hometown of Qufu.It was the place where memorial ceremonies were held for Confucius during the Yuan, Ming and Qing Dynasties,offered their respects to Confucius. Now it has become a museum exhibiting engraved stones, old Chinese doorbells and drums, bronze and jade utensils, paintings and calligraphic works, antique musical instruments and ancient Chinese currencies. Every September, a ritual celebrating Confucius's birthday takes place here, in which a music and dance ceremony from the Qing dynasty is performed.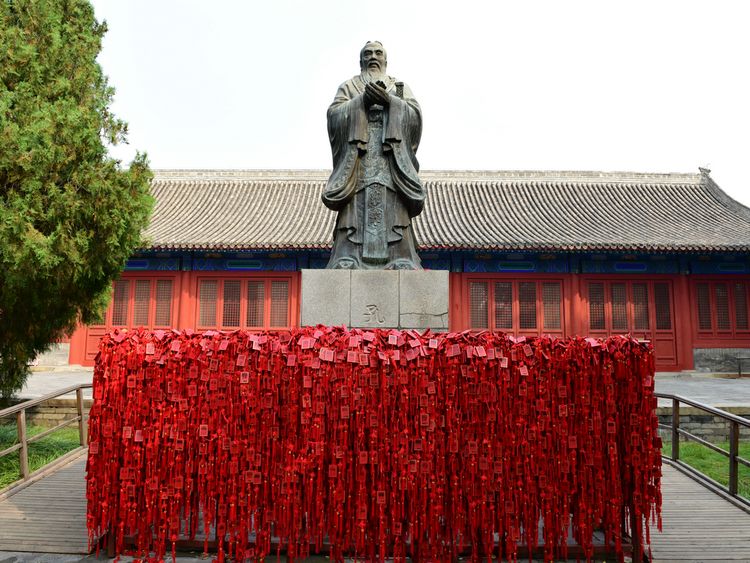 History of Confucius Temple
The temple was built in 1302, and officials used it to pay their respects to Confucius until 1911. The compound was enlarged twice, during the Ming and Qing dynasties and now occupies some 20,000 square meters. From 1981 until 2005,the Temple of Confucius also housed part of the art collection of the Capital Museum. It stands on Guozijian Street near the Imperial Academy.


Architrcture
The complex includes four courtyards aligned along a central axis. From south to north, noteworthy structures includes the Xianshi Gate (???), Dacheng Gate (Gate of Great Accomplishment, ???), Dacheng Hall (Hall of Great Accomplishment, ???) and Chongshengci (???).Inside the temple there are 198 stone tablets positioned on either side of the front courtyard, and they contains more than 51,624 names of jinshis (advanced scholars) of the Yuan, Ming and Qing dynasties, and 14 stone stele pavilions of the Ming and Qing dynasties that hold various historical documents of ancient China.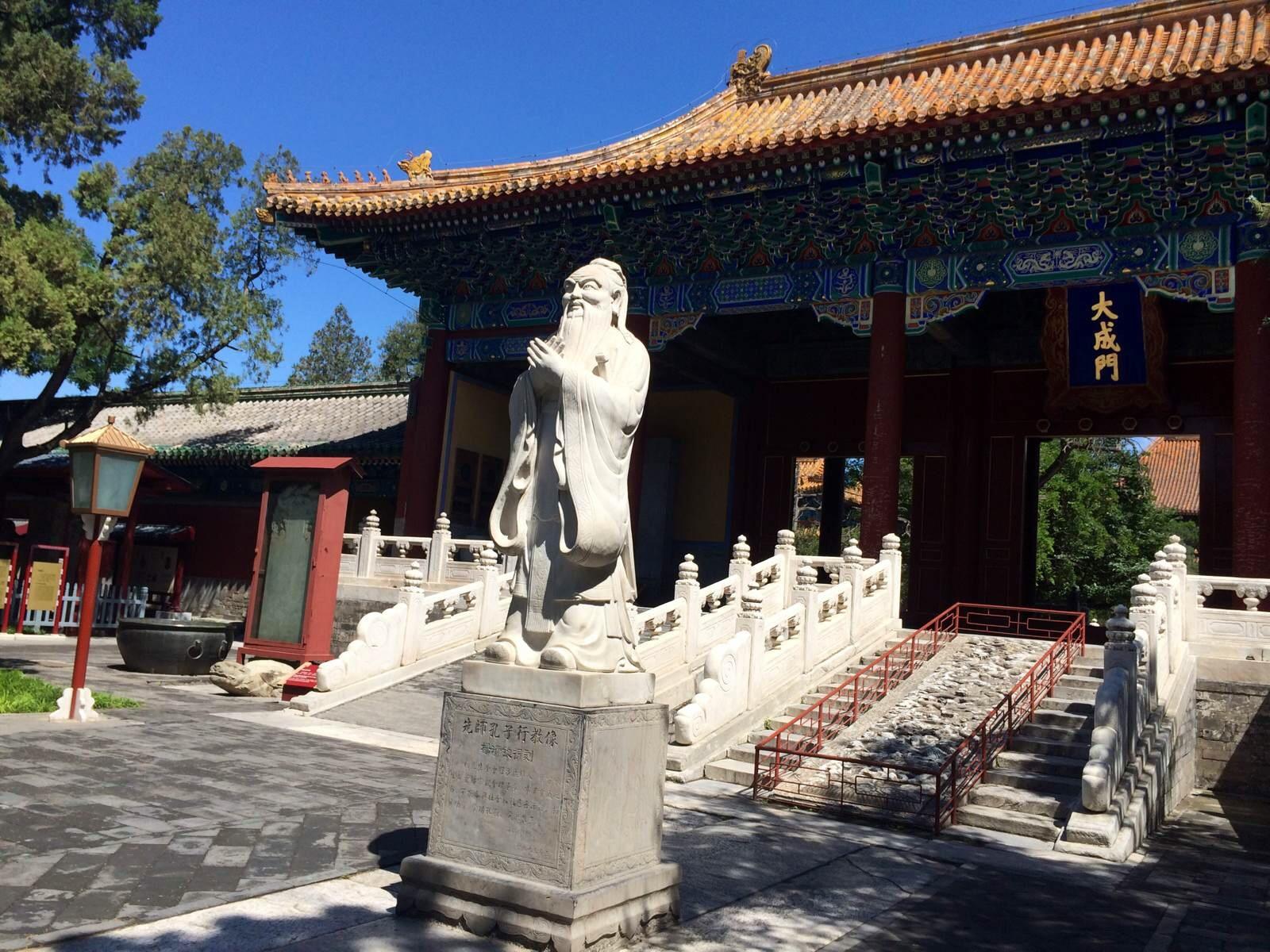 There is set of carved stone drums made between 1736–1795 during the Qianlong period of the Qing dynasty held within the Gate of Great Accomplishment, and there is also a large collection of ancient Chinese musical instrument located within the Hall of Great Perfection, along with the central shrine to Confucius.
There are various carvings inside the temple ground. One notable example is a famous carving of "two flying dragons playing a pearl among clouds"; this rare image is seldom to be found in other Confucius temples in China or East Asia, and it is often used in the imperial palaces as dragon is usually solely reserved for emperors.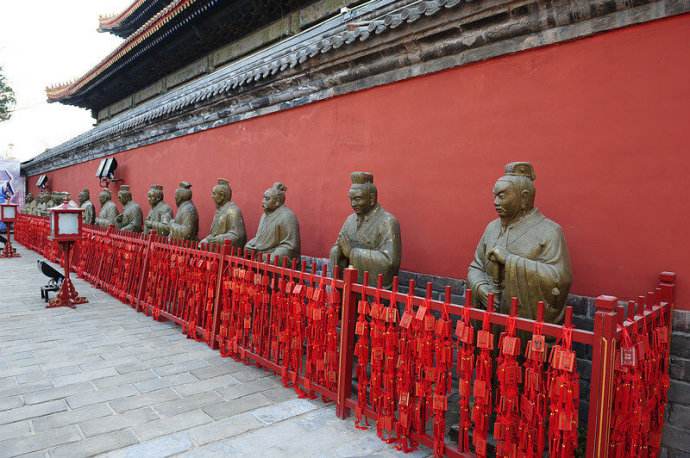 The temple has many old trees, including one cypress tree known as the "Touch Evil Cypress" (Chu Jian Bai), that has been made famous by folklore through the ages. Its name derives from a Ming dynasty story that when a notoriously corrupt official was passing by, the tree knocked off his hat, and since then people have thought this particular tree could distinguish between good and evil.

Information
Address:#13 Guozijian Jie (near the Lama Temple's main gate),Dongcheng District,Beijing City
Admission Fee:CNY 30 -combo ticket for the temple and Guozijian;Free for children under 1.2m
Opening Hours:08:30 to 18:00(May to October), tickets sale ends at 17:30; 08:30-17:00(November to April),ticket sale ends at 16:30.
Time for Visit: 1 hour

How to get to Beijing Confucius Temple
Bus Route:
Take bus No. 13 or 684 and get off at Guozijian Station.
Take bus No. 116 or 117 and get off at Yonghegong (Yonghe Lamasery) Station.
Metro Route:
Take Line 2 or Line 5 and get off at Yonghegong Station. Get out from Exit G. Walk south along Yonghegong Street for about four minutes. Then walk west along Guozijian Street and you can see the entrance of this temple.