Guyaju Ruins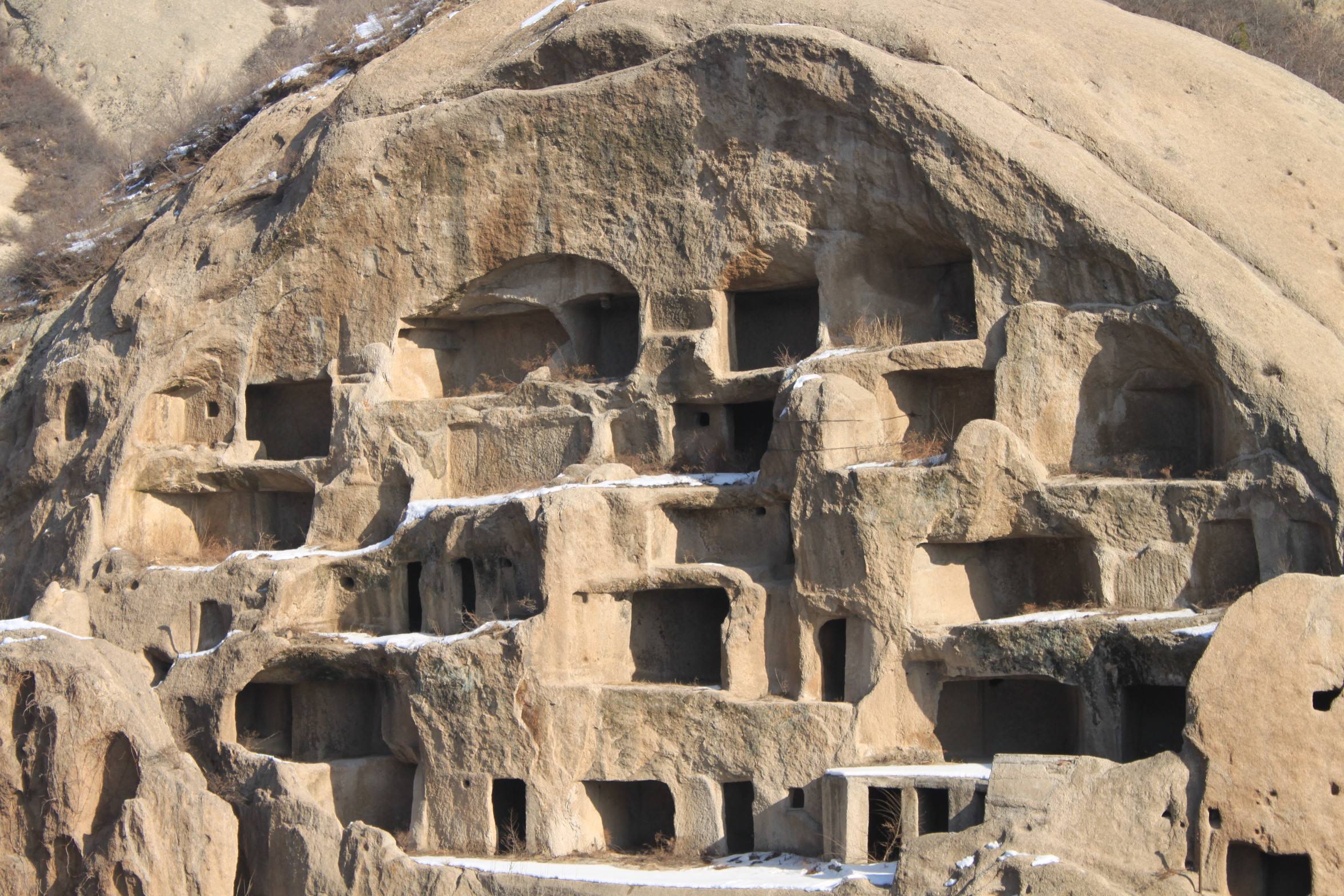 Introduction
The caves homes of Guyaju (Guyaju meaning, ancient cliff dwelling) are about 90km northwest of Beijing, China. They were occupied during China's Tang Dynasty (AD 618-907) by the Xiyi people. There are over 100 homes carved in to the hillside. The homes, some with stylish pillars of stone, are arranged in two village clusters supplied with fresh water from a natural spring. When they were occupied the homes would have had a timber frame facade with thatch roofs.
History & Background
The caves were inhabited more than 1,000 years ago by the so-called Xi People. At some point about 1,000 years ago the caves were abandoned and the inhabitants vaished. The whole history ofthe caves remains enigmatic, there is no sufficient archaeologic evidence to explain what happened.
The caves are more or less of square shape, but somewhat irregular, looking more like modern art than a city. Probably this was a result of changing hardness of the rock, or simply lack of sufficient tools. Some of the caves contain ovens or fire places, others troughs which suggests the use as stables. One of the caves is called Chieftain's Palace, because it is of bigger size having eight rooms and a fancier entry with columns. Obviously this is just a name, and no archaeologist can tell what this cave was really used for.
Structure & Architecture
The site is composed by 117 caves and more than 350 rooms and halls, scattered along the northern, southern and eastern slopes. Most of the caves has three rooms, with a small living room and a warehouse. Some homes are two-storey and they are connected by carved stairs, stone bridges and steps. Every room has its defined purpose: communal events, royal quarters, religious rituals, cooking, storage, livestock, living, etc. It has its own drainage and water storage system.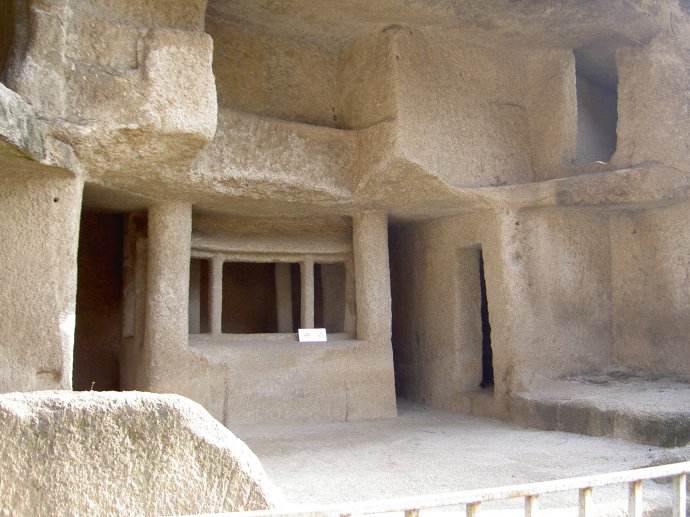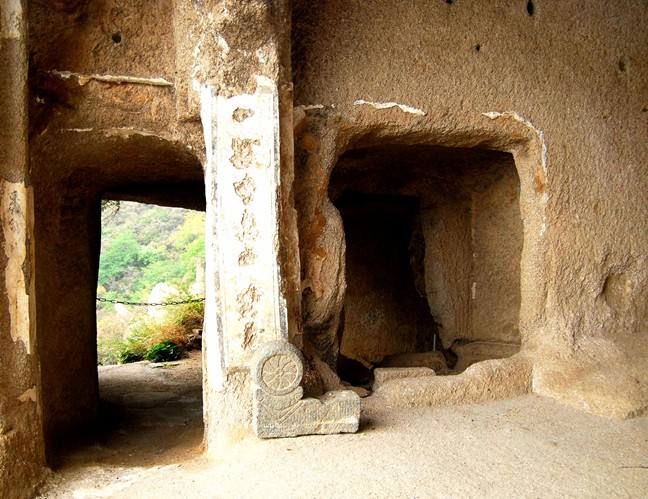 Rooms are of different shapes and size: rectangular, round or square, the largest is 20 meters long, while the smaller 3 meters. Average room height is 1.6/1.7 meters, the tallest 1.8 m. For this reason scholars assume the community that resided there could not exceed 1.4/1.5 meters in height. Archaeologists have speculated that the proportions of the space may indicate that the houses had been built for a community of people of small stature.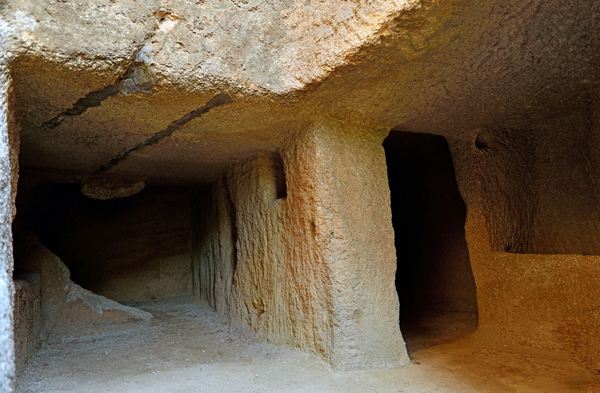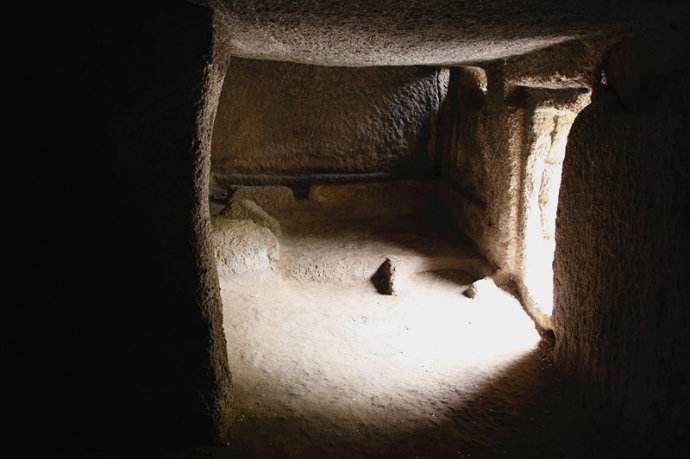 Information
Admission Fee:CNY 55; Free for children under 3.9 feet (1.2 meters).
Opening Hours: 07:30 - 18:00 (May-October); 08:00-17:00(November-April)

Transportation: Take bus 919 or 919 Express from Deshengmen Station and get off at Yanqing Dongguan Station. Transfer to Y40 and get off at Guyaju Station. Y40 departs at 06:00, 08:00, 10:00, 13:00, 15:00 and 18:00.