Harbin Travel Guide
Overview
Harbin, also known as "Ice City", is the capital city of Heilongjiang Province, with a permanent population of 10.858 million. Harbin is the political, economic and cultural center in the north of Northeast China, known as the Pearl of the Eurasian Continental Bridge. Harbin is a famous historical and cultural city, once the birthplace of the Jin and Qing Dynasties. Harbin is a top tourist city in winter and a famous international ice and snow culture city, known as "Oriental Moscow" and "Oriental little Paris".
History&Background
Harbin is a city without city walls in history. As early as 22000 years ago, in the late Paleolithic age, human activities had already taken place here. About 5000 years ago, Harbin area entered the Neolithic age.
Harbin is the birthplace of the Jin and Qing Dynasties. In 1115, the Jin Dynasty established its capital in Shangjing (Acheng District, Harbin). In 1173, Shangjing was re established as its capital. After the establishment of the Qing Dynasty, in 1756, Qianlong established a jurisdiction in Echeng District, and a large number of Manchuria and Han people moved to Harbin.
At the end of the 19th century, there were dozens of villages and 30000 residents in Harbin. Economic factors such as transportation, trade and population began to expand, laying a foundation for the formation and development of the city.
In 1896 and 1903, with the construction of the Middle East Railway, industry, commerce and population began to gather in Harbin. When the Middle East Railway was completed, Harbin had formed the rudiment of modern city.
At the beginning of the 20th century, Harbin has become an international commercial port. More than 160000 overseas Chinese from 33 countries have gathered here, and 19 countries have set up consulates here.
On August 7, 2017, Harbin was elected as the "Capital of East Asian culture".
Harbin City Information

Public City Transportation
At present, the main modes of transportation in Harbin are subway and bus. there are only three subway lines and 292 public buses line.
Transportation
Highway
Harbin has 5 expressways and 4035 ordinary roads, with convenient transportation.
Railway
Harbin is the railway hub in Northeast China. You can reach Beijing, Changchun, Shenyang, Dalian, Tianjin, Shanghai, Guangzhou, Jinan, Qingdao, Nanchang, Wuhan, Shijiazhuang, Zhengzhou, Changsha, Xi'an, Chongqing, Dezhou, Nanjing, Hangzhou, Wenzhou, Haikou, Fuzhou, Urumqi, Baotou and other cities along the line from Harbin by train. And you can reach all the large and medium sized towns in the province through passenger trains, and is an important railway hub linking China and Northeast Asia.
Flight
Harbin Taiping International Airport has opened 253 air line, including 234 domestic routes. You can reach Beijing, Hong Kong, Taipei, Shanghai, Shenzhen, Guangzhou, Nanjing, Tianjin, Xi'an, Shenyang, Urumqi and other major domestic cities from Harbin Taiping International Airport, as well as Tokyo, Osaka, Niigata, Seoul, Yekaterinburg, Khabarovsk, Vladivostok, anchorage, Paris and other international cities.
Water Transport
Harbin, located in the middle of Songhua River, is the command and transportation center of water transportation in Heilongjiang Province. Since 1990, China and Russia have had water transportation trade exchanges.
What to see in Harbin
Harbin Ice and Snow World
Located in the middle of Songhua River, with a total length of 1030 meters and a maximum width of 25 meters. It covers an area of nearly 200000 square meters and uses a total of 60000 cubic meters of ice. It was founded in 1999 by Harbin Municipal Government to welcome the Millennium celebration of "Shenzhou century Tour". With the advantages of Harbin's ice and snow season, it launched a large-scale ice and snow art boutique project.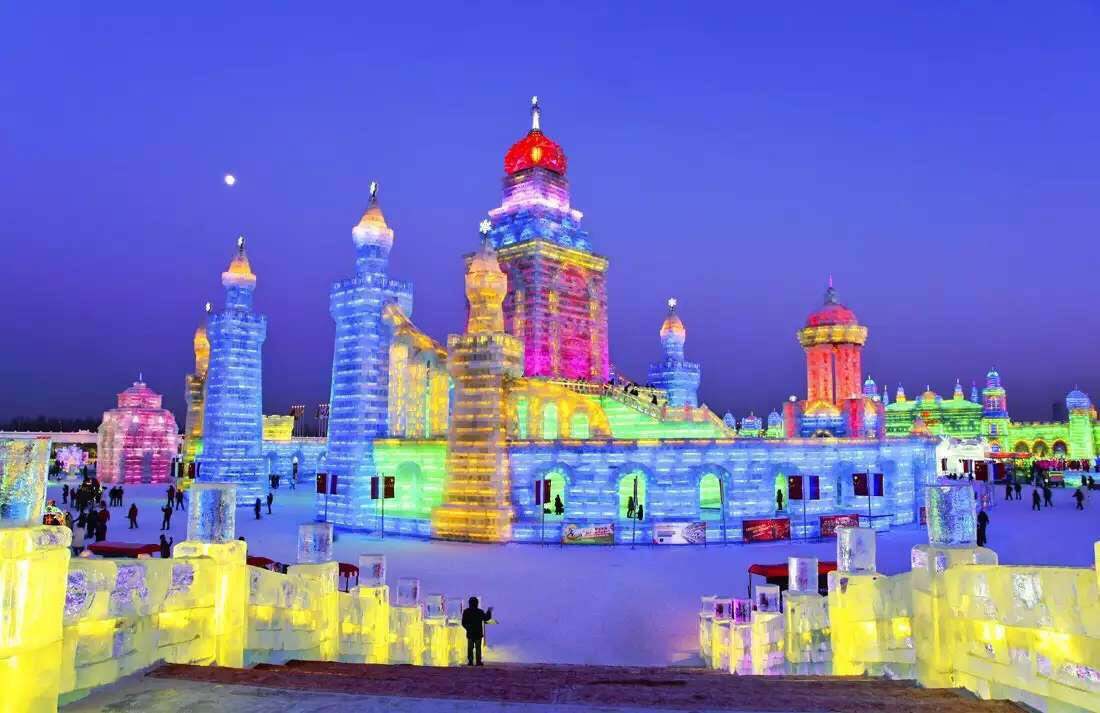 Siberian Tiger Park
Siberian Tiger Park is located on the northern side of the Songhua River and neighbors the Sun Island. Covering an area of 1,200,000 square meters, the park is considered the one and only place in the world to admire the purebred and scarce Siberian tiger (aka Manchurian tiger), one of the world's top 10 endangered animals.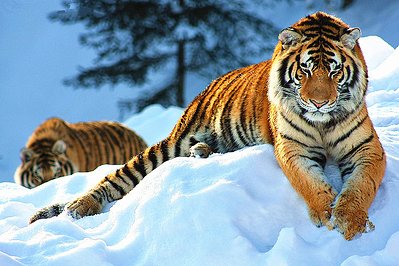 Harbin Central Street
Harbin Central Street was built in 1900. The street buildings include 71 buildings of Renaissance, Baroque and other styles. It is one of the most prosperous commercial streets in Harbin.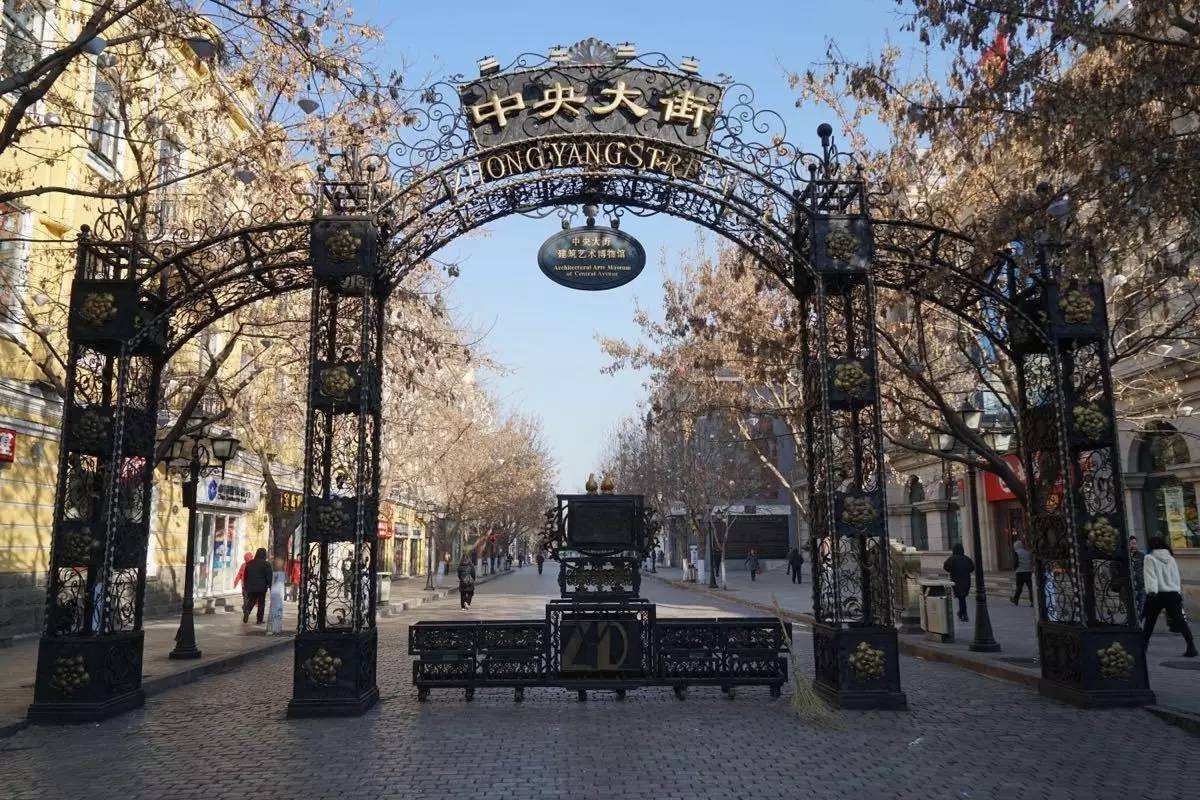 Harbin Opera House
Harbin Opera House is a landmark building in Harbin. After its completion, the public can enjoy authentic and pure opera performances (without any electro acoustic equipment, all performed by the voice of the actors), and experience the perfect feelings brought by symphony, ballet, drama, etc. in different functional halls.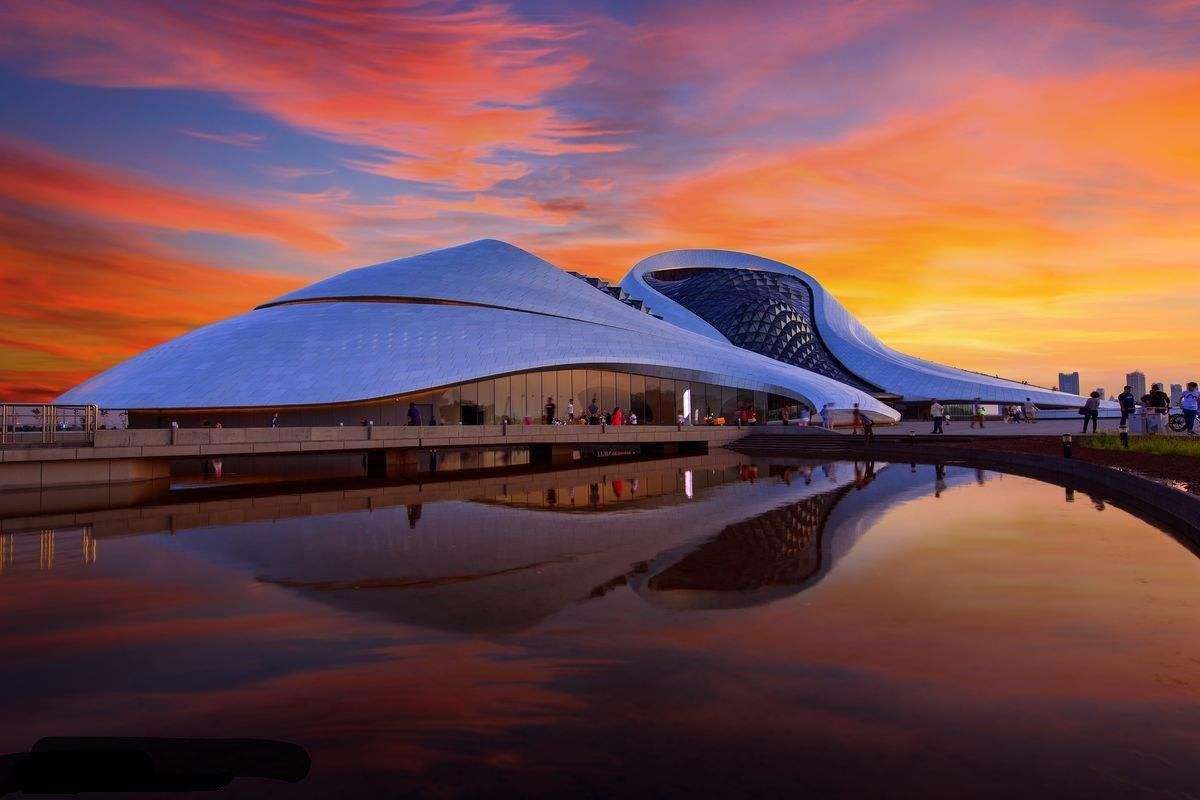 Sun Island Scenic Area
Sun Island Scenic Area is a famous summer resort in China, surrounded by the clear water of Sun Island, with charming scenery and plain, rough and natural scenery. It's a recreational zone with fine gardens, landscaped miniforests, as well as a zoo for Siberian Tigers. It is Harbin's main parkland and opens all year around.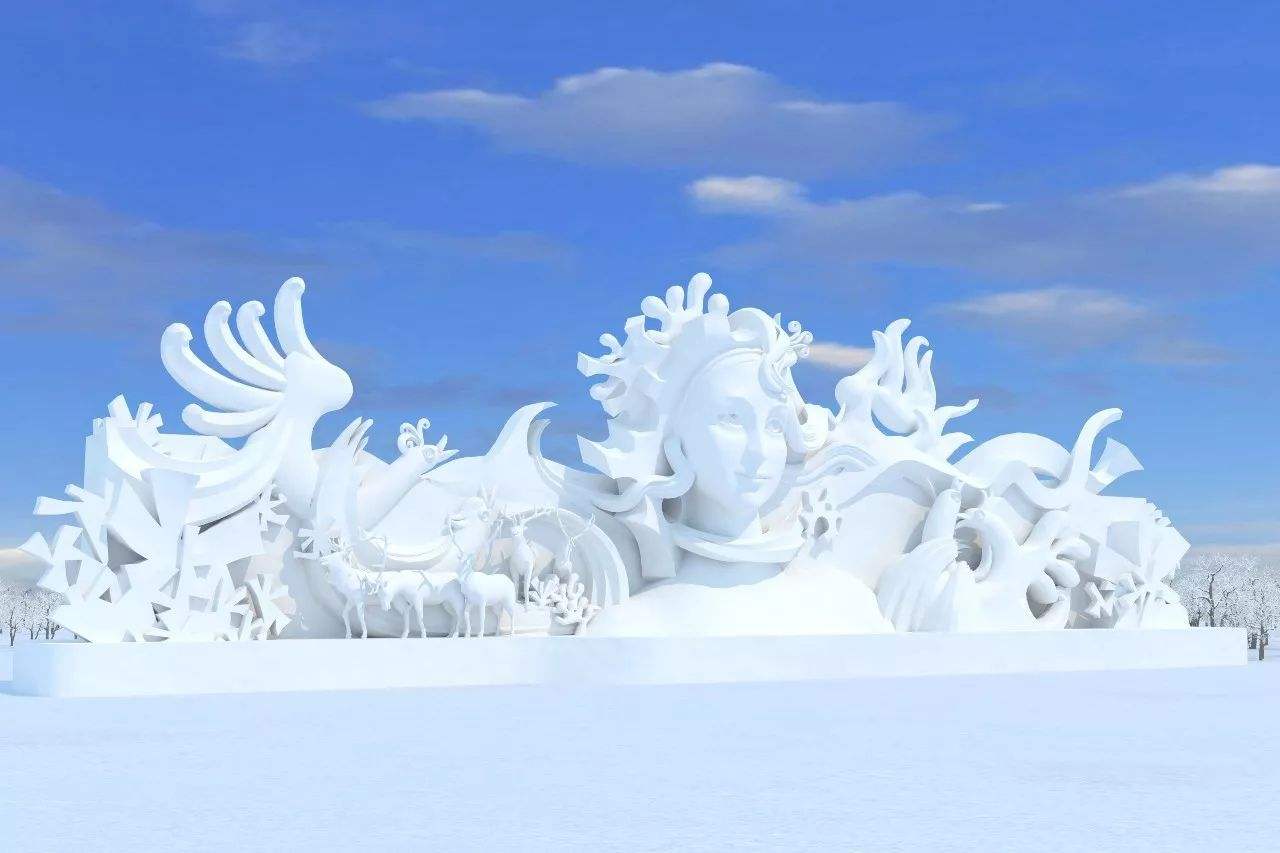 St. Sophia Cathedral
It is a Byzantine orthodox church built in 1907. It is the landmark of Harbin. The designer is Russian architect koyasikov. Now the interior of the church is used as "Harbin architecture and Art Museum".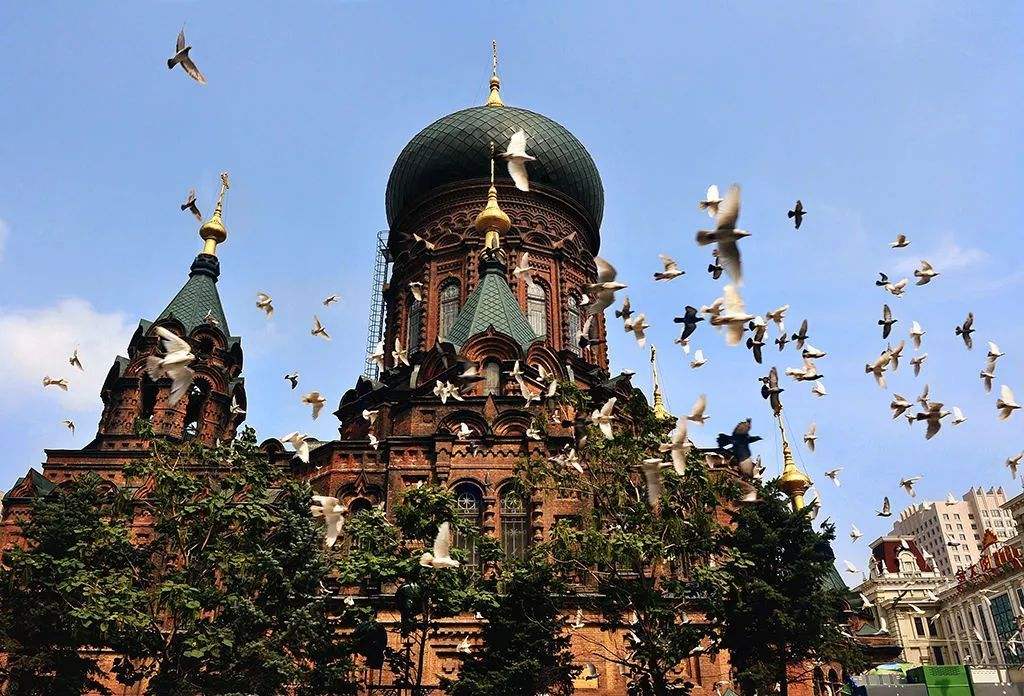 Top Harbin Tour

5-Day Private Harbin & China Snow Town Winter Adventure Tour
Highlight:

5 Days Harbin Winter Adventure Tour includes the main attractions in Harbin. An overnight stay in the awesome beautiful China's Snow Town affords unique opportunities to experience the local peasants' life as well as dog- sledding or snow-mobiling through the forest.

Fully Guided in Harbin: 3 Days Harbin City Highlights Tour
Highlight:

Taking our 3 Days Harbin City Tour will be your best choice to visit Harbin, it allows you to wonder at the amazing ice and snow sculptures, have a close-up with the endangered Siberian Tigers, admire the Stalin Park and Central Avenue. What's more, you can enjoy some interesting ice games like sledging and skating.
3- Day Private & Customizable Harbin Winter Tour with China Snow Town Excursion

Highlight:

Taking 3-day Harbin & China Snow Town to enjoy Harbin Ice and Snow Festival and visit No.1 snow Town in China. Besides visiting the two top tourist destinations, you can aslo skiing in Yabuli Ski Resort(optional activity), the largest ski resort in China. Travel with our professional & knowledgeable tour guide to learn the local culture & history, touring by comfortable vehicle.
2-Day Harbin Guided Tour: Essential of Harbin highlights

Highlight:

This is a full guided harbin 2 days tour package, the tour covers the most famous attractions of Harbin city, such as Zhongyang Street, Siberian Tiger Park, St.Spoia Church as well as Ice & Snow Festival sites. Flexible on departure and finish time, no rush for the sightseeing on the spot.
Private Harbin Customized Tour: Full Day Explore the Ice and Snow World

Highlight:

This is a Harbin private day tour that offers a special winter travel experiences like nowhere else in China. Follow us, you will immerse yourself in a charming ice & snow world, flock into beautiful city of Harbin to see essential highlights, take part in some local winter activities. It will be the best tour option if you only have a short stay in Harbin.