Peking University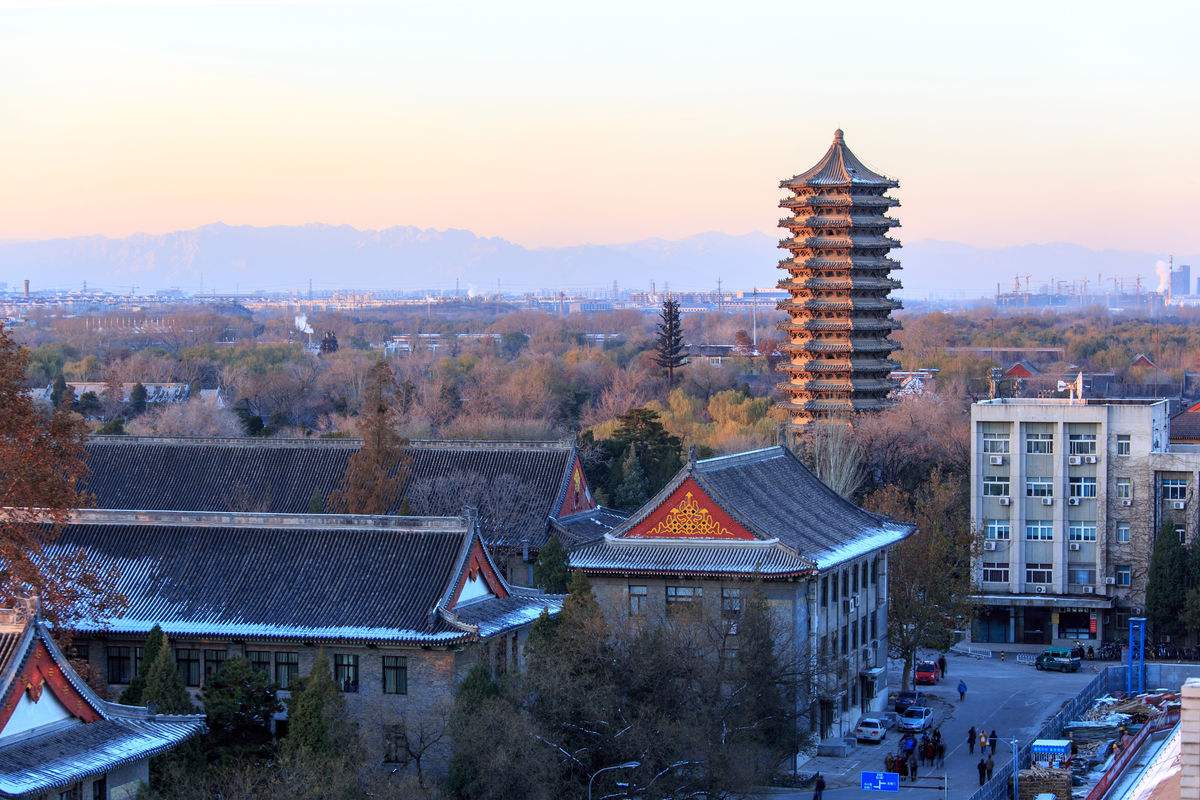 Introduction
Peking University is a major Chinese research university located in Beijing and a member of the C9 League. It is the first modern national university established in China, founded as the Imperial University of Peking in 1898 as a replacement of the ancient Guozijian (Imperial College). It also served as the highest administration for education in China at the beginning of its founding. By 1920, it had become a center for progressive thought. Peking University is consistently ranked as the top academic institution in China» As of 2017, it is ranked among the world's top 20 universities according to Times Higher Education World Reputation Rankings. In addition to academics, Peking University is especially renowned for its campus grounds and the beauty of its traditional Chinese architecture.
Throughout its history, the university has educated and hosted many prominent modern Chinese thinkers, including figures such as: Mao Zedong, Lu Xun, Gu Hongming, Mao Dun, Li Dazhao, Chen Duxiu, and current Premier Li Keqiang. Peking University was influential in the birth of China's New Culture Movement, May Fourth Movement, the Tiananmen Square protest of 1989 and many other significant events.

History & Background
When it was established on July 3, 1898, the school was known as the Imperial University of Peking (simplified Chinese: ?????; traditional Chinese: ?????). It was established to replace Taixue or Beijing Guozijian, or Imperial College, as part of the Hundred Days' Reform. Following the Xinhai Revolution, the Imperial University of Peking was renamed "Government University of Peking" in 1912 and then "National University of Peking" in 1919 (simplified Chinese: ??????; traditional Chinese: ??????). The noted scholar Cai Yuanpei was appointed president on January 4, 1917, and helped transform the university into the country's largest institution of higher learning, with 14 departments and an enrollment of more than 2,000 students. Cai, inspired by the German model of academic freedom, recruited an intellectually diverse faculty that included Hu Shih, Chen Duxiu, and Lu Xun. In 1919, students of Peking University formed the bulk of the protesters of the May Fourth Movement. Efforts by the Beiyang government to end the protests by sealing off the Peking University campus led to Cai's resignation. In 1920, Peking University became the first Chinese university to accept female students.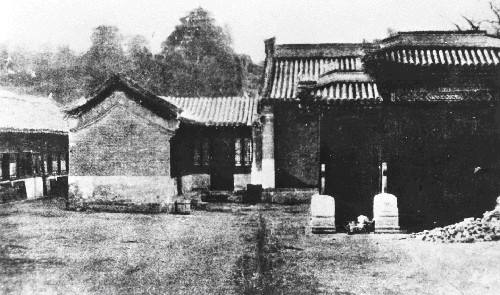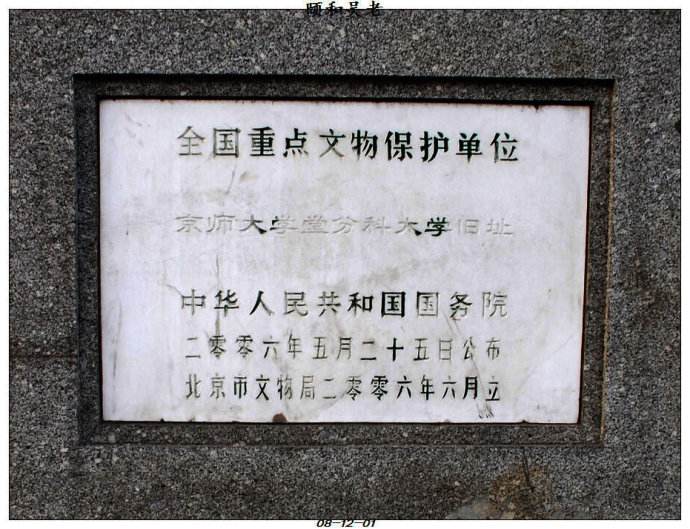 After the outbreak of the Second Sino-Japanese War in 1937 (and the resulting expansion of Japanese territorial control in east China), Peking University moved to Changsha and formed the Changsha Temporary University along with Tsinghua University and Nankai University. In 1938, the three schools moved again, this time to Kunming, and formed the National Southwestern Associated University. In 1946, after World War II, Peking University moved back to Beijing. At that time, the university comprised six schools (Arts, Science, Law, Medicine, Engineering, and Agriculture), and a research institute for humanities. The total student enrollment grew up to 3,000.
In 1949, after the People's Republic of China was established, Peking University lost its "national" appellation to reflect the fact that all universities under the new socialist state would be public. In 1952, Mao Zedong's government re-grouped the country's higher education institutions with individual institutions tending to specialize in a certain field of study. As a result, some arts and science faculties of Tsinghua University and former Yenching University were merged into Peking University. At the same time, however, the university lost its Law, Medicine, Engineering and Agriculture schools. These schools and faculties were either merged into other universities or to found new colleges. During the re-grouping, Yenching University was closed up. Peking University moved from downtown Beijing to the former Yenching campus.

The first disturbances of the Cultural Revolution began at Peking University in 1966; education there ceased between 1966 and 1970.

In 2000, Beijing Medical University was merged back into Peking University and became the Peking University Health Science Campus. Beijing Medical University used to be Medical School of Peking University and was separated from Peking University at 1952. Peking University now has eight affiliated hospitals and 12 teaching hospitals.

In 2001, Peking University established the Yuanpei Program which was formalized in 2007 as Yuanpei College, named in honor of a highly respected former university president Cai Yuanpei. The college hosts an elite undergraduate liberal program for select students.

In 2001, Peking University set up a satellite campus in Shenzhen. The university's second business school was launched on this campus in 2004.

In 2014, Peking University established Yenching Academy as an interdisciplinary global leadership program to build a bridge between China and the world.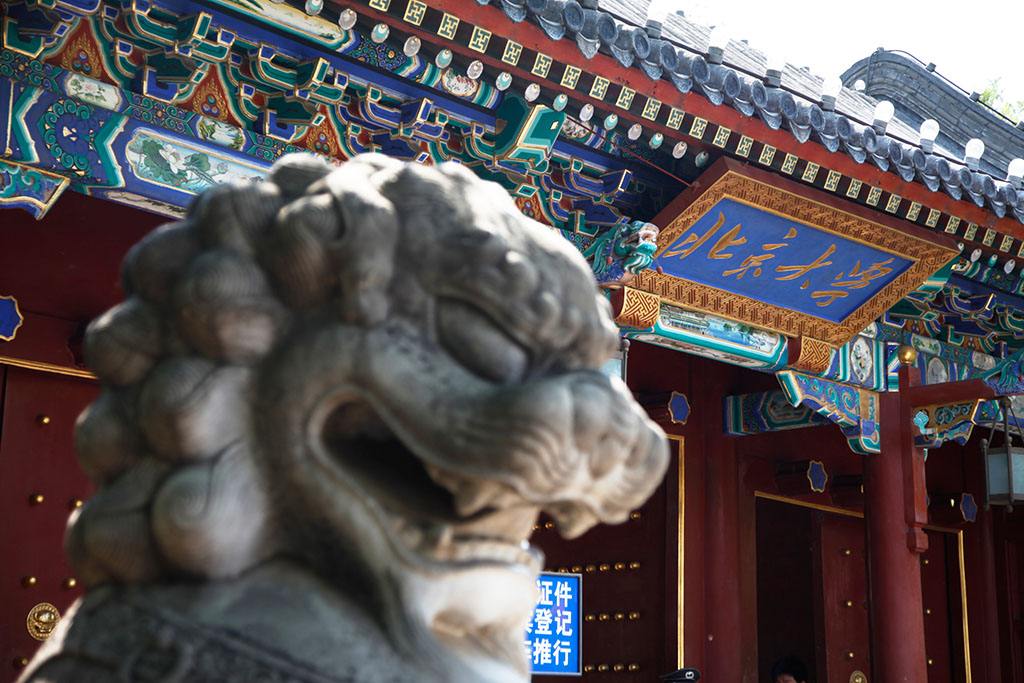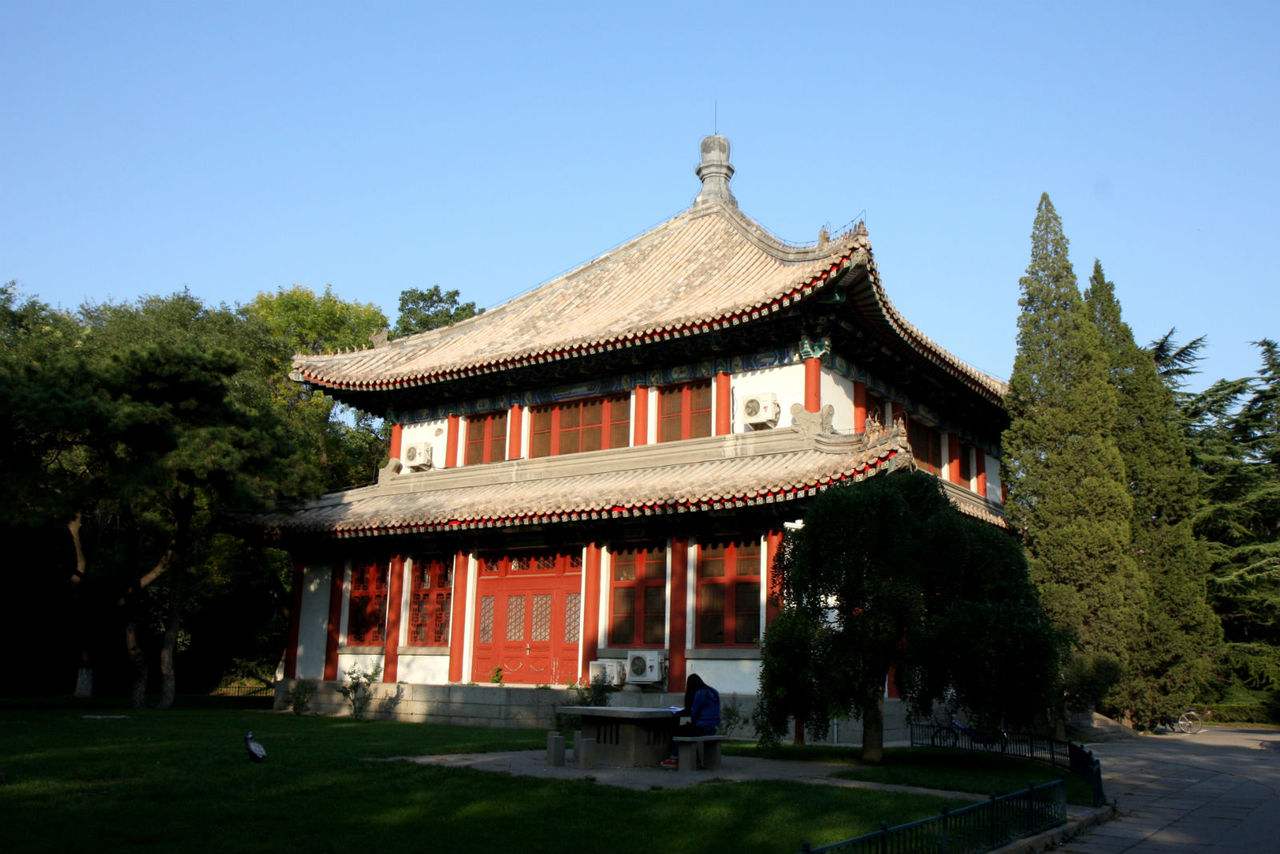 Campus & art & culture
The campus of Peking University was originally located northeast of the Forbidden City in the center of Beijing, and was later moved to the former campus of Yenching University in 1952. The main campus is in northwest Beijing, in Haidian district, near the Summer Palace and the Old Summer Palace; the area is traditionally where many of Beijing's most renowned gardens and palaces were built.
The university campus is in the former site of the Qing Dynasty imperial gardens and it retains much traditional Chinese-style landscaping, including traditional houses, gardens, pagodas, as well as many notable historical buildings and structures. There are several gates that lead into campus — East, West and South gates, with the West Gate being the most well known for the painted murals on its ceiling. Weiming lake is in the north of the campus and is surrounded by walking paths and small gardens.

The university hosts many museums, such as the Museum of University History and the Arthur M. Sackler Museum of Art and Archaeology. Notable items in these museums include funerary objects that were excavated in Beijing and date back thousands of years from the graves of royalties of the Warring States period. There are ritual pottery vessels as well as elaborate pieces of jewelry on display. There are also human bones set up in the traditional burial style of that period.

Beyond its main campus, Peking University Health Science Center (PKUHSC) is on Xue Yuan Road where the country's most distinguished colleges are. The PKUHSC's campus is less aesthetically appealing than the main Peking University campus but is nonetheless a fitting site for academics and research.

In 2001, Peking University's Shenzhen campus, the Shenzhen Graduate School, opened its doors. The campus is located in the northwest part of Shenzhen City.

A performance of Kunqu at Peking University

In 2008, the THE-QS World University Rankings ranked the Peking University as the 23rd best university in the world in arts and humanities; it is also the highest ranked university from Asia in this field. The Peking University was ranked as the 18th (2007 rankings), 10th (2006 rankings), 6th (2005 rankings), and 7th (2004 rankings) best arts and humanities university in the world.
Peking University is well known for its contribution to modern Chinese literature, poetry and art, and for the publications of groundbreaking modern Chinese books such as Hong Zicheng's A History of Contemporary Chinese Literature. Peking University has participated in many joint art-research projects, such as the Center for the Art of East Asia (CAEA) with the University of Chicago, and developing the Peking University, Department of Digital Art and Design with UNESCO.

Peking University partners with Stanford University for its Asian cultural studies programs such as the Stanford Program in Beijing and the Stanford-Peking University Summer Program, which encourages Stanford students interested in exploring Chinese language, history, culture, and society to study on campus at Peking University.

American architect and art historian Talbot Hamlin designed some of the buildings constructed during the 1919 to 1922 period.

Notable people
Main article: List of Peking University people
Peking University has produced many notable people, especially prominent thinkers in modern China. These include figures such as Hu Shih, Li Dazhao and Lu Xun. Peking University also has three Nobel Prize winners: Tsung-Dao Lee, Yang Chen Ning and Tu Youyou. Another notable alumni includes Hao Ping current Vice President of the Ministry of Education.
Mao Zedong, Chen Duxiu, and Li Dazhao, all founders of the Communist Party of China, either taught or held offices in the university. Lu Xun, a notable contemporary writer and influential figure of the Chinese New-Culture Movement, which took place in 1919 and sparked China's anti-imperialism and anti-feudalism march, was also attached to the university. During the Cultural Revolution, Peking University philosophy faculty Nie Yuanzi notoriously published the first big-character poster. Peking University students also led at the Tiananmen Square Protest of 1989 for Chen Duxiu and Lu Xun's people's democracy.

Tips
The university has had enough of being a tourist attraction it has banned all tour groups from the campus.
The exceptions are individual visitors and groups of high school students organized by educational institutions as long as they secure permission from the university's security department three days in advance.