Overview:
In a city of over 14 million, the thought of taking public transit may be a bit daunting. However, the Beijing subway is a cheap and easy way to access tourist sites, shopping meccas, and popular restaurants.
Subways in Beijing are the fastest transportation, a good way to avoid frequent traffic jams. Its subway system is the best in China, and allows visitors to quickly and conveniently get around the city. During rush hours, it can be quite crowded, but is still very convenient. If you are planning to travel Beijing by subway, it will be helpful and accessible to get where and when the subway can take you to. So check the detailed information about the timetables of Beijing subways.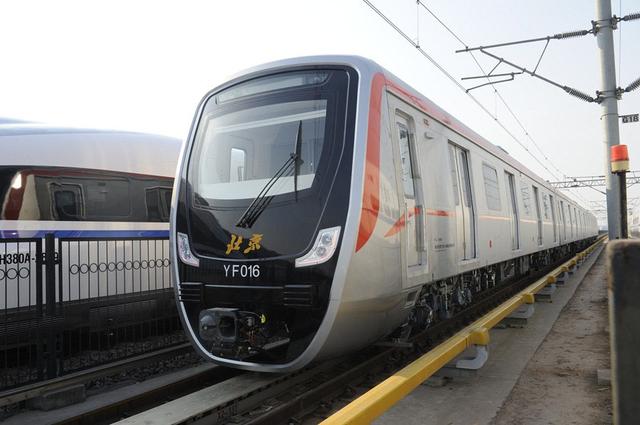 Beijing Subway Line:
Line 1: a straight east-west line underneath Chang'an Avenue, which bisects the city through Tiananmen Square. Line 1 connects major commercial centres, Xidan, Wangfujing, Dongdan and the Beijing CBD.
Line 2: a rectangular loop line, traces the Ming-era city wall that once surrounded the inner city, and stops at 11 of the wall's former gates (ending in men), now busy intersections, as well as the Beijing Railway Station.
Line 4: a mainly north-south line running west of city centre with stops at the Summer Palace, Old Summer Palace, Peking and Renmin Universities, Zhongguancun Technology Park, National Library, Beijing Zoo, Xidan and Beijing South Railway Station.
Line 5: a straight north-south line just east of the city centre. It passes the Temple of Earth, Lama Temple and the Temple of Heaven.
Line 8: Phase I (Olympic Branch Line) extends north off Line 10 with three stops in the Olympic Green.
Line 10: an inverted L-shaped shaped route to the north and east of Line 2. It runs east-west, following the Yuan-era city wall in the north, passing just south of the Olympic Green and turns south at Sanyuanqiao, northeast of the city, and follows the eastern 3rd Ring Road through the embassy district and Beijing CBD.
Line 13: across suburbs north of the city and channels commuters to Xizhimen and Dongzhimen, at the northwest and northeast corners of Line 2.
Batong Line extends Line 1 eastward from Sihui to suburban Tongzhou District.
The Airport Line connects the Beijing Capital International Airport, 27 km northeast of the city, with Line 10 at Sanyuanqiao and Lines 2 and 13 at Dongzhimen.
The Map of Beijing Subway System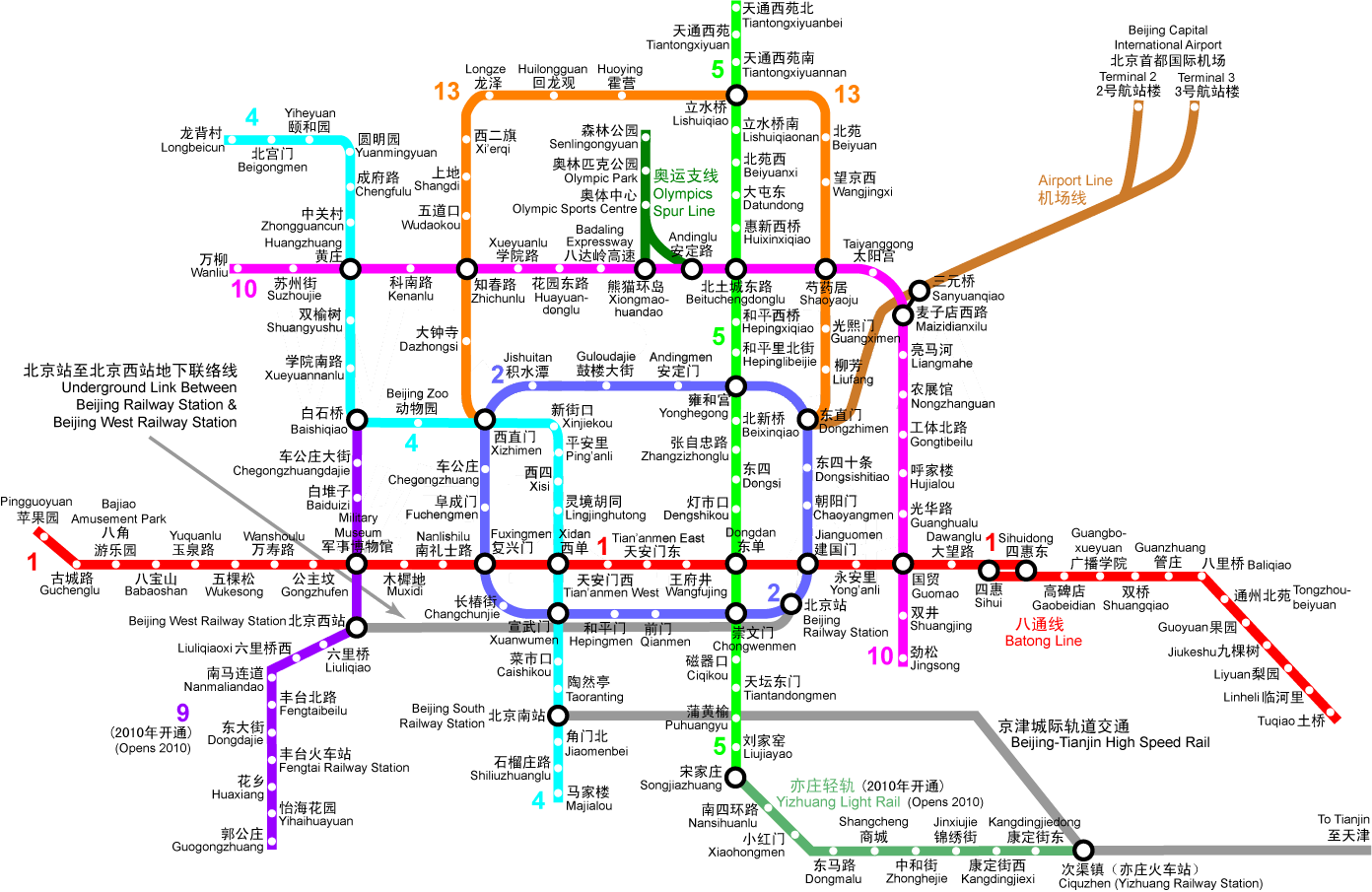 Beijing Subway Fares
If you pay in cash, it costs RMB 2 per ride, but if you are ready to take the subway during your tour and use it regularly, buy some extra tickets (but the tickets are issued for one-day use only) or get a prepaid swipe card, called 'Yikatong' pass. It is a rechargeable "smart card' that can be used on all subway lines. You can buy them from a ticket window with 'IC' printed above. This pass also gives 60% discount on bus fares. 20RMB deposit required to obtain a card.
How to use Beijing Subway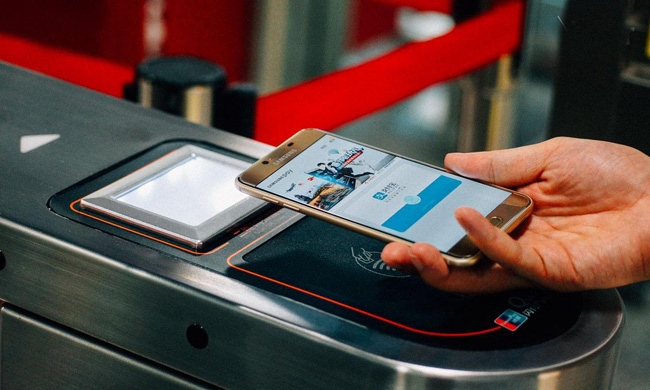 In Beijing, when you see a blue sign marked with "???? (Beijing Subway)", you will find a subway station nearby. When accessing to the subway station, it is marked by a square grey pillar, on top of which is a lighted blue sign with the letter 'B'.
The ticket window is at the entrance of the subway station, and after buying a ticket, goes downstairs to the platform. Gain access by inserting your ticket into a machine, and wait there for the train.

The ticket window is at the entrance of the subway station, and after buying a ticket, goes downstairs to the platform. Gain access by inserting your ticket into a machine, and wait there for the train.
Beijing Subway Travel Tips
1. Usually, the trains get a bit crowded, so it is advisable to move towards the door one station prior to your destination. Similarly, if you have far to travel before reaching your stop, it is best to move towards the center of the train to avoid Beijing pushed. Try best to avoid the subway during morning and evening rush hours, as it is often unbearably packed.
2. Be aware of yourself and your belongings, because where there are crowds, there are pickpockets. The subway is relatively safe, but it is best to keep money and valuables in a bag rather than a pocket.
3. Despite constant recordings reminding passengers "first off, then on" when it comes to boarding the train, the advice is often ignored.
4. A child shorter than 1.2 meters (3.93 feet) cannot ride the subway alone. If an adult takes one child below 1.2 meters high on the subway, the child is free of charge; if two, one of the children is free of charge.
5. There are many attractions worth visiting along the Subway Line 2.