Harbin Travel Tips
Post Date: 2018/01/15 13:17
Share to:
Best Time to Visit Harbin City
Harbin, the capital city of Heilongjiang province, is located in Northeast China under the direct influence of the cold winter wind from Siberia. The average temperature is -16.8 degrees Celsius in winter. Sometimes, the temperature can drop to as low as -38.1 degrees Celsius.

Winter is the best time to visit Harbin for the annual International Ice and Snow Scupture Festival is celebrathed there. Officially, the Harbin International Ice and Snow Sculpture Festival starts on January 5th and ends at the end of Februaray. However, the theme parks often open earlier (around Christmas Day) and stay longer (until March 1-3) if weather permits.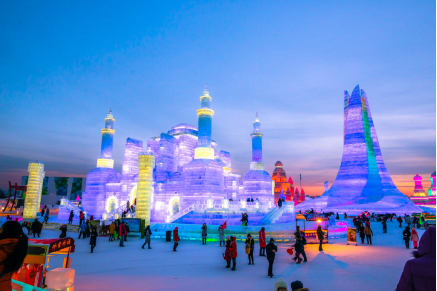 Useful phone number in Harbin City
Harbin Railway Station:0451-95105688
Ferry: Songhua River Shipping Bureau Harbin Shipping Station: (0451) 88912653 / Harbin Shipping Company Office: (0451) 88981484 / Harbin Ferry Company Passenger Depot: (0451) 84616851
Taxi Company: Inquiry: 0451-88381537 / Complaint: (0451) 84517488
Hosiptals:
A.Harbin Municipal Hospital of Traditional Chinese Medicine / Tel: (0451)88029599
B.First Hospital of Harbin / Tel: (0451)84883003
C.Harbin Red Cross Center Hospital / Tel: (0451)84886601
Emergency Number:
110 Call police for help in any danger
119 Dial this number when fire or other disaster happens
120 Call for an ambulance
122 Dial this number when a traffic accident happens
Tips for first time try skiing in Harbin
Find a Ski Resort with Beginner Terrain
In Harbin, most ski resorts offer trails for beginners, there's no need to head out to an expert ski resort for your first time skiing, for example, the Yabuli Ski Resort, it is also has trails for beginners but far away from Harbin City (about 197 km).

Rent Skis
In some Harbin ski resorts, all their rental shops would give you skis that suit your ability, but their height is the key. Make sure they are 20-30cm shorter than your height - shorter skis are easier to turn! If you find the front of your skis keep crossing while you ski, then go back to the rental shop and ask for some shorter ones!

Rent Boots
The biggest problem that the beginners face is cold feet. Or cut off circulation. It is because the boots you are using are not fit for you. Maybe rental boots are uncomfortable so your mission is to try to find a pair that feel relatively comfortable but snug! Boots should allow you to wiggle your toes, but it should not allow you to turn your foot side-to-side within it. Try several pairs of boots at your first time - not every boot marked the same size is actually the same size. Find the boot that fit you.

Glasses & Gloves & Socks
prevent the light and cold wind and Ski gloves should be cold-proof and impervious to water. Skiing boots are relatively warm. Very warm. Do Not wear very thick socks or more than one pairs in your boots. Otherwise you'll lose circulation, and then your feet will feel cold.

Clothing
Do NOT wear jeans, or sweatpants. You will be falling down in snow, and even if it is cold enough to be dry snow, some of it will stick to you and melt. If you get wet, it's over. There's no chance to stay warm. At least wear shells (nylon waterproof pants with no padding or insulation). Your jacket and gloves should also be waterproof. To keep warm you have to wear right amount of clothing, and keep moving.

Take a Lesson
Most of the ski resorts in Harbin have their own skimeisters. Investing in a simple ski lesson is necessary, even if your friends ski and want to teach you. Make sure to specify that you are a beginner skier with no (or little) experience on the slopes.

Stay Safe
Ski with caution and work hard to stay in control. During your lesson, make it a point to listen to your instructor, because later, you can practice what you've learned on your own time. However, don't push yourself too hard - on your first day, it's best to stick to terrain that you know you can handle.

Getting involved
Skiing is a massive confidence sport though, so take your time learning and don't rush straight up to the top of the mountain, because getting out of control and stacking it at high speed can put people off.