How to Visit Beijing Hutongs
Post Date: 2020/05/22 09:55
Share to:
A hutong is a type of narrow alley unique to Beijing, and a popular must-see for tourists who visit the Chinese city and where is the best place to show you the local Beijing life. If you want to experience the abundant history and culture of Beijing, why not visit the hutongs? The Beijing hutongs are situated in an interesting and authentic area where the most original ancient local residences are located. Compared with imperial architectures, the Beijing hutongs are more authentic and interesting. You can experience another architectural style in Beijing.Taking the Beijing trip to visit hutong will give you a glimpse of Chinese traditional life of Beijing. There are many hutongs in Beijing city, but do you know how to visit them? The following hutong travel information for your reference when you plan a hutong tour.



How to Get Around Beijing Hutong
Walking
Walking is always a great choice, just know that you might get tired walking all over Beijing in the course of a day. Walking is the ideal way to explore 1 Hutong or small area. Walkers can easily take a tricycle taxi or a normal taxi to visit different Hutong neighborhoods.

Recommended Hutong Walking Route
Visit Beijing Hutongs around Sichahai Area, it is the most classic visiting route by tourists to walk around the Hutong. The route starts from Nanluoguxiang Hutong, then you will walk into the Hutongs where the locals live and work. By visiting this route, you will visit the Drum Tower & Bell Tower, Houhai Area and Prince Gong's Mansion. It takes around 3 hours by walking this hutong route which can make a half day Beijing hutong tour.


Cycling
Cycling is a good way to visit Hutongs in Beijing and it gets more and more popular by the tourists. Cycling provides a speedier experience than walking, especially between from Hutong to Hutong. It takes a bit of bravery though, not everyone is comfortable cycling in Beijing traffic. There are many places offering the bike rental service and you can rent a sharing bike on spot if you can use Alipay or Wechat pay.

Best Cycling Route:
Tiananmen Square - West Damochang Hutong - Beixiangfeng Hutong - Dongjiaominxiang Hutong - Beihaushenchu Hutong - Bell and Drum Tower - Guozijian - Nanxincang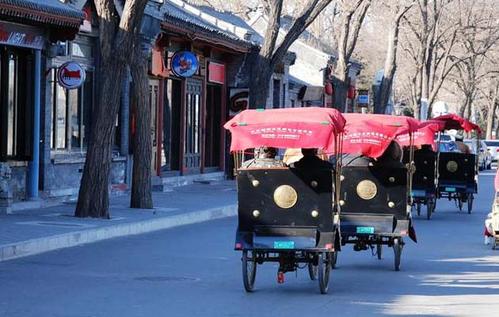 Rickshaw Ride
The tranditional rickshaw ride is one of the most popular ways to visit Beijing hutongs, it provides a unique view of Beijing and becomes more and more popular with tourists.For a uniquely Chinese experience, visitors can have a local rickshaw-tricycle taxi driver take you to get into the narrow alley. Sichahai Area is the most popular area for tourists to experience the rickshaw ride.

It takes around 1.5 hours for the whole route and costs about CNY200. It will be expensive than taxi or bike but it gives you an local traditional life experience.


Famous Hutongs in Beijing
Nanluoguxiang
It is a well-restored and perhaps the most touristy of all hutongs, Nanluoguxiang has managed to preserve its charms for both locals and visitors. This hutong with a long history, delicious foods, it is one of the most ancient blocks in Beijing, the largest complete chessboard type residence in Beijing.The street is a cornucopia of street foods and small thrift shops ideal for some last minute souvenir shopping. Bars, cafes and live music venues are in abundance.You can take subway line 6 or 8 to Nanluoguxiang station and walk out of exit E. The exit will lead you directly onto the street.

Guozijian Street
Guozijian Street is a meaningful ancient street, which has a perfect combination of Beijing's past and present. It was the location of the Directorate of the Imperial Academy, which was the highest institution in ancient times; so it is also honored as the "Chinese historical and cultural street". Take a stroll along Guozijian Street and you can experience the typical old Beijing lifestyle by admiring various antique stores, drinking a cup of tea in a local teahouse, or hanging out at traditional Chinese stores.

Xijiaomin Lane
It is the longest hutong in Beijing, the total length is 6.5km. It is quieter but full of Chinese and Western culture and architectures. It was regarded as the "Financial Street of Beijing" at the end of the Qing Dynasty.

Wudaoying Hutong
Wudaoying is also a great starting point for further exploration in the area. It's extremely close to both the Lama Temple and Ditan Park, as well as the stunning tree-lined Guozijian hutong. If you have a bit of extra time, I also recommend getting lost in the hutong catacombs surroundings. You'll get an incredible glimpse into everyday life in Beijing's alleyways.

Fangjia Hutong
Fangjia Hutong is found to the north of Dongcheng District, close to the Lama Temple. Unlike Wudaoying Hutong just to the north, Fangjia Hutong is still discovering itself. The Beijing city government, we're sure, would prefer it be talked about for 46 Fangjia Hutong, a tool factory turned artsy courtyard that's been dubbed a "mini 798". Expats, however, probably know it best for the many hole-in--the-wall drinkeries offering imported bottled beers exceeding 3.6 percent alcohol by volume. As yet unspoilt and brimming with creative possibility, Fangjia Hutong offers comedy, art, music and more.


What to Do in Beijing Hutong
Family Visiting & Cooking Class
Walking into the local people's house, you can free visit the traditional buildings and chat with the ower. You can know about the history of the hutongs and experience the local people's life around the hutong. Besides, you can learn how to cook the local food or take a cooking classes with a local family, such as Chinese dumplings, you can visit the local market to see how people buy the daily food and choose some food that you are interested.

Chinese Paper Cutting Learning
Taking the half-hour paper cutting learning class also is a popular activities by tourists who interested in the Chinese culture and handcrafts. Chinese paper cutting is one of the famous traditional handicrafts with a long history. It is easy to learn and only requires a pair of scissors and paper, but a good paper cutter requires a great deal of skill in cutting and paper selection. If you take this paper cutting class, you can learn the history, how to make a paper cutting and design your own paper cutting.

Shopping
As hutong area is one of the good places to do shopping in Beijing, there are numbers of shops and markets where you can bargain and try to get a deal on a variety of products. Such as Nanluoguxiang is a touristy hutong with many tranditional handcrafts and snack, the main street itself houses bars, restaurants, cafes and shops and is meant to be the core, or spine, of the community.

Traditional Rickshaw Experience
Almost all friends from other countries prefer to take a rickshaw to visit the old hutongs. They can both appreciate the ancient alleys with grey brick walls and particular northern Chinese quadrangle courtyards, and listen to the related history and stories along the way since some wheelers can speak some English. Moreover, you can see the remained palace of the prince to admire the excellence in the gardens and decorations and to experience the past life and prosperity of Chinese imperial household.


Hutong Travel Tips
1) Pay attention when you walk or ride a bicycle in hutong area since the road is narrow and croweded.
2) Take care of your personal belongs (moblie phone, camera, cash...) when you sightseeing hutong in case of being stolen.
3) Ask for the permission before you enter the local people's house, they area some Siheyuan are open to tourists but some are not.