How to Visit Mutianyu Great Wall
Post Date: 2020/05/22 11:21
Share to: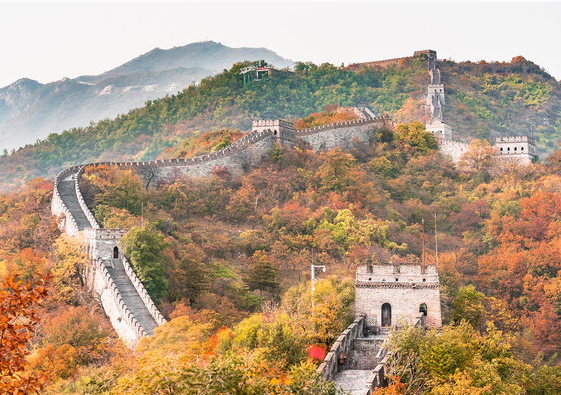 Mutianyu Great Wall is one of the most famous tourist spots in Beijing but it less crowded than Badaling Great Wall. It's about 75KM away from Beijing city center. Travel to Beijing can't without a Great Wall sightseeing tour. Visiting Mutianyu Great Wall during your Beijing, it offers beautiful views of the snaking Great Wall as it undulates over mountains into the distance and is fortified by a number of watchtowers that visitors can climb up into for views of the surrounding area.


How to visit Mutianyu Great Wall
Hiking
Hiking is one of the most popular activities when tourist visit the Mutianyu Great Wall. If you want to do some easy Great Wall hiking, the Mutianyu Section of the Great Wall of China is the perfect location. Lots of tourists will spend half day to have the hiking experience at Mutianyu Great Wall. This longest fully-restored section of the Great Wall was rebuilt with smooth and even steps, which are child-friendly. Strolling leisurely on the Wall, you can take a closer look at the unique structural style of this section, or you can extend your hiking down to the Jundu Mountain valley. This hiking route is suitable for all kind of travellers.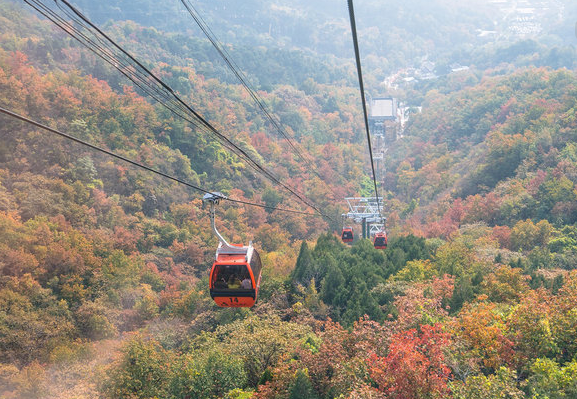 Cable Car
Taking cable car is an ideal option if you are traveled with eldery or young kids. The total length of Mutianyu Cable way is 723 meters, its height above sea level at terminal is 640 meters and cable car can run 3.5 meters per hour. Six people in one compartment. All Its operation systems are fully automatic, so it brings you safe, convenient and quick visit and is reputed as "No. One Cable Car of Great Wall". When you sit inside the cable car, you can enjoy the beautiful scenery in Great Wall as much as you like. In spring, fragrant flowers are vying with each other in beauty and are blooming; in summer, mountains are covered with green coats and you can listen to music of flowing lake; by autumn, it is fruitful and can see red leaves dancing; by winter, Great Wall is painted of pure white and coated with silver costume.

Price:
Single Ride: CNY60/P.P for adult; CNY50/P.P for children.
Round way: CNY120/P.P for adult; CNY100/P.P for children


Where to stay near Mutianyu Great Wall
As Mutianyu Great Wall is close to Beijing city center, which takes around 1.5 hours. Most tourists will choose to back to Beijing when they finish the great wall tour. Huairou is home to Mutianyu Great Wall. You can spend a laid-back day checking out the sights and exploring the area. There are some nice places to stay near the Mutianyu Great Wall section.
Mutianyu Brickyard Hotel & Spa
The hotel offers other facilities for the enjoyment of our guests, including free wireless internet throughout. There is a cozy den with a wood-burning fireplace in the Lodge, an inviting place to curl up with a book from our collection and enjoy a coffee or a tipple from the bar. A separate card and cigar room with a Mahjong table has its own ventilation system and is the only indoor space where smoking is permitted.

Yanqi Island Boutique Hotels Beijing
Managed by Kempinski and located on various parts of Yanqi Island, the 12 Boutique Hotels have a total of 178 guestrooms and suites.Guestrooms range from a 40-square-metre Standard Room to a 1,087-square-metre Presidential Suite. The hotels blend contemporary and traditional design with thematic décor inspired by the Chinese Imperial Gardens of Beijing and the concept of 'Siheyuan' – a traditional courtyard combined with modern elements. The Boutique Hotels offer breathtaking views of the mountains, the Mutianyu Great Wall, the lake and natural gardens.

Homestay
There are number of homestays nearby the Mutianyu Great Wall at a cheap price, basic room equipment but clean. If you are travelling within a budget.


Where to Eat near Mutianyu Great Wall
There are lots of restaurants near the Mutianyu Great Wall, you can find different style of food there, such as typical chinese food, western food, Japanese food, fast food...The most famous stop for lunch near the Mutianyu Great Wall as below:

The Great Wall Heights
It is located in the beautiful scenery of the valley Great Wall under foot, the village featured with pesudo-classic style buildings. You can overlook the grand Great Wall. It is one of the largest Chinese restaurant near the Mutianyu Great Wall, you can enjoy the typical Sichuan cuisine and some home cooking food here.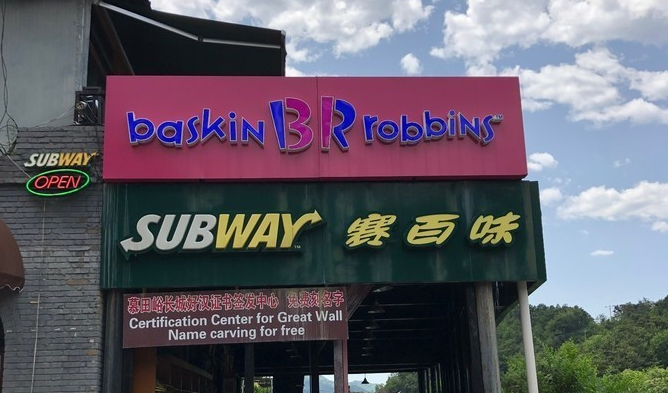 Subway Restaurant
It is located at the foot of the Mutianyu Great Wall, one of the best restaurants for tourist to stop for a rest to the Mutianyu on the way. It provides non-fried and low fat sandwiches. There are many kinds of sandwiches for you to choose. You can also choose the ingredients to make your own sandwiches.

Brickyard Retreat Restaurant
One of the facilities comprising of the Brickyard Retreat, at the Mutianyu section of the Great Wall — highly popular with Western tourists. Not only does it offer food and drinks, but also has various entertainment facilities such as a spa and gaming rooms. It is a nice place to stay overnight.

Pinic Lunch
You can also prepare some food & snack, choose a good location for your Great Wall pinic lunch. It's a cost & time saving way when you visit Great Wall in Beijing.


How to get to Mutianyu Great Wall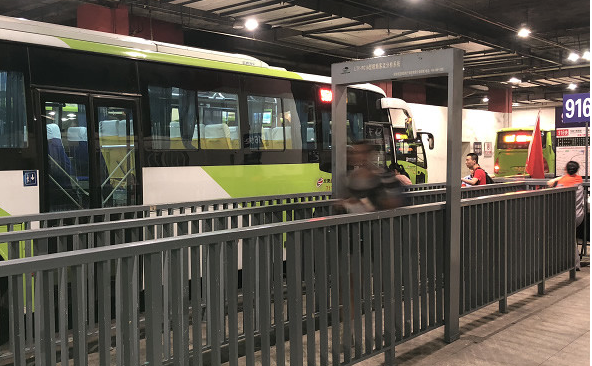 1) Tourist Buses: You can take tourist buses from Beijing city center to visit Mutianyu Great Wall on your own. If you are interested in taking public transportation, you can take Mutianyu Great Wall Tourism Line from Xuanwumen & Dongzhimen Bus Terminal.

2) Taxi: You can take taxi from Beijing downtown to Mutianyu Great Wall for one way or round ways. It takes around 1.5 hours from Beijing city and cost around CNY300 for one way. You can also ask the taxi driver take you back to Beijing downtown when you finish your Mutianyu Great Wall Tour. Try to ask for a cheaper price from the driver.

3) Book a Mutianyu Great Wall Day Trip from Beijing is a good option if you want to enjoy the door to door pick up & drop off service, tour guide service. Private tours and group tours are available to visit Mutianyu Great Wall. You can only book the private transfer service with driver only.


Tips for Visiting Mutianyu Great Wall
1) Time for visiting: you should spend half day for the Mutianyu Great Wall sightseeing.
2) Autumn is the best time to visit the Mutianyu Great Wall, you can enjoy the changing foliage and best chances of clear views
3) Wear comfortable shoes for the great wall tour since there are lots of walking & climbing. You should prepare enough water and snack in advance.
4) Take the chairlift up, but opt for the slide on the way down