China Beijing Opera
Post Date: 2017/08/03 11:55
Share to:
A brief Introduction of Beijing opera
Peking opera or Beijing opera is a form of Chinese opera which combines music, vocal performance, mime, dance, and acrobatics. It arose in the late 18th century and became fully developed and recognized by the mid-19th century. The form was extremely popular in the Qing dynasty court and has come to be regarded as one of the cultural treasures of China. Major performance troupes are based in Beijing and Tianjin in the north, and Shanghai in the south. The art form is also preserved in Taiwan (Republic of China), where it is known as Guójù. It has also spread to other countries such as the United States and Japan.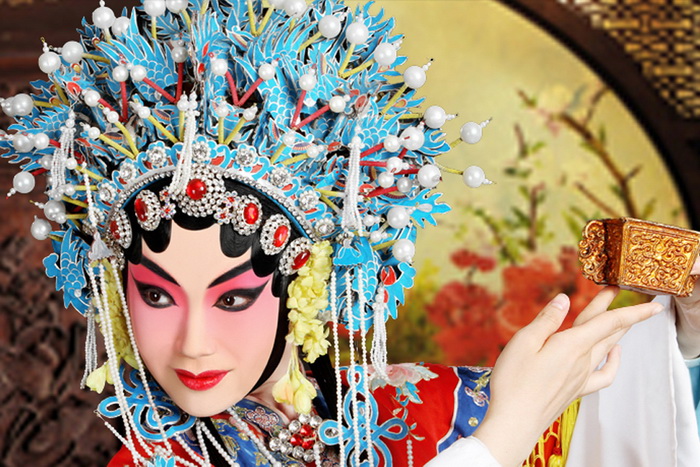 History of Beijing Opera
Peking opera was born when the 'Four Great Anhui Troupes' brought Anhui opera, or what is now called Huiju, in 1790 to Beijing, for the eightieth birthday of the Qianlong Emperor on 25 September. It was originally staged for the court and only made available to the public later. In 1828, several famous Hubei troupes arrived in Beijing and performed jointly with Anhui troupes. The combination gradually formed Peking opera's melodies. Peking opera is generally regarded as having fully formed by 1845.Although it is called Peking opera (Beijing theatre style), its origins are in the southern Anhui and eastern Hubei, which share the same dialect of Xiajiang Mandarin (Lower Yangtze Mandarin).
Peking opera's two main melodies, Xipi and Erhuang, were derived from Han Opera after about 1750. The tune of Peking opera is extremely similar to that of Han opera, therefore Han opera is widely known as the Mother of Peking opera. Xipi literally means 'Skin Puppet Show', referring to the puppet show that originated in Shaanxi province. Chinese puppet shows always involve singing. Much dialogue is also carried out in an archaic form of Mandarin Chinese, in which the Zhongyuan Mandarin dialects of Henan and Shaanxi are closest. This form of Mandarin is recorded in the book Zhongyuan Yinyun. It also absorbed music from other operas and local Zhili musical art forms. Some scholars believe that the Xipi musical form was derived from the historic Qinqiang, while many conventions of staging, performance elements, and aesthetic principles were retained from Kunqu, the form that preceded it as court art.

Peking opera was initially an exclusively male pursuit. The Qianlong Emperor had banned all female performers in Beijing in 1772. The appearance of women on the stage began unofficially during the 1870s. Female performers began to impersonate male roles and declared equality with men. They were given a venue for their talents when Li Maoer, himself a former Peking-opera performer, founded the first female Peking-opera troupe in Shanghai. By 1894, the first commercial venue showcasing female performance troupes appeared in Shanghai. This encouraged other female troupes to form, which gradually increased in popularity. As a result, theatre artist Yu Zhenting petitioned for the lifting of the ban after the founding of the Republic of China in 1911. This was accepted, and the ban was lifted in 1912, although male Dan continued to be popular after this period.

Modern Peking opera
During the second half of the 20th century, Peking opera witnessed a steady decline in audience numbers. This has been attributed both to a decrease in performance quality and an inability of the traditional opera form to capture modern life. Furthermore, the archaic language of Peking opera required productions to use electronic subtitles, which hampered the development of the form. The influence of Western culture has also left the younger generations impatient with the slow pacing of Peking opera.
In response, Peking opera began to see reform starting in the 1980s. Such reforms have taken the form of creating a school of performance theory to increase performance quality, employing modern elements to attract new audiences, and performing new plays outside of the traditional canon. However, these reforms have been hampered by both a lack of funding and an adverse political climate that makes the performance of new plays difficult. However, perhaps following the lead of the West, Peking opera in recent decades has shifted to a more director and playwright centered model. Performers have striven to introduce innovation in their work while heeding the call for reform from this new upper level of Peking-opera producers.

Beijing opera classification of performers and roles
The roles on the Peking Opera stage fall into four major roles-Sheng (?), Dan (?), Jing (?), Chou (?).
Sheng (?): refer to men, divided into Laosheng (??),Xiaosheng (??),Wusheng (??)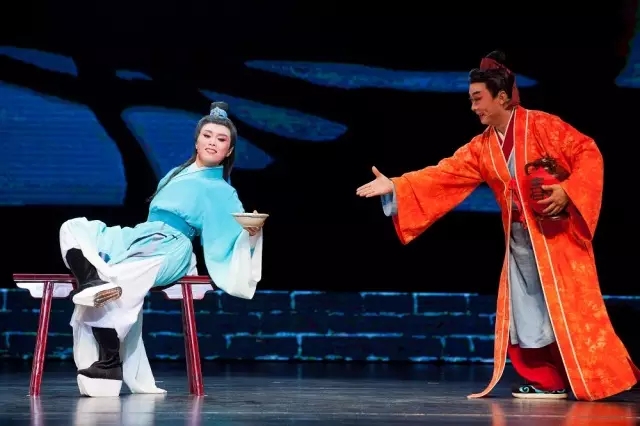 Dan (?): refer to women, divided into Zhengdan (??), Laodan (??), Huadan (??), Wudan (??), Daomadan (???)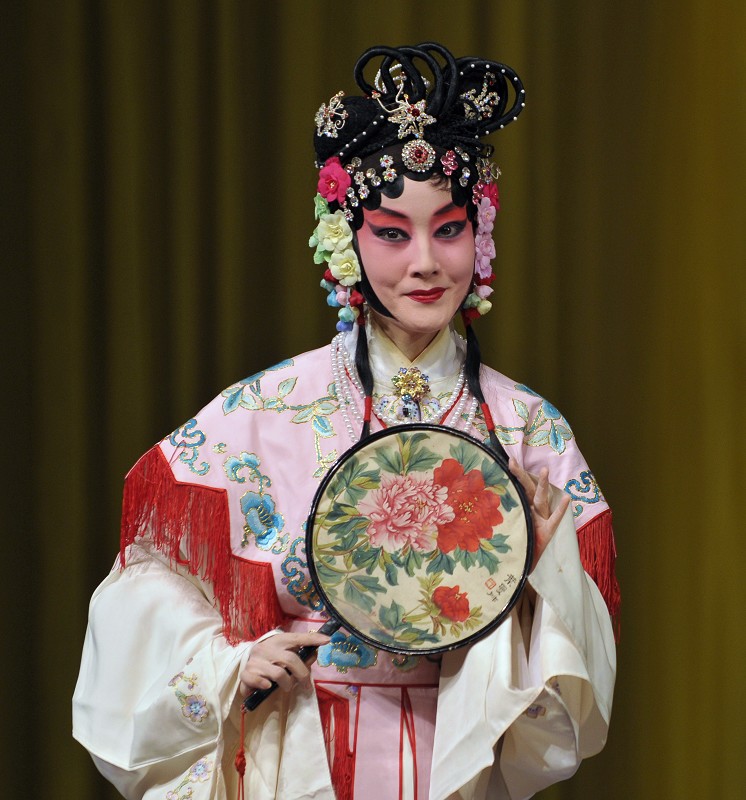 Jing (?): refer to painted-face role, know popularly as Hualian, divided into Zhengjing (??), Fujing (??), Wujing (??), Maojing (??)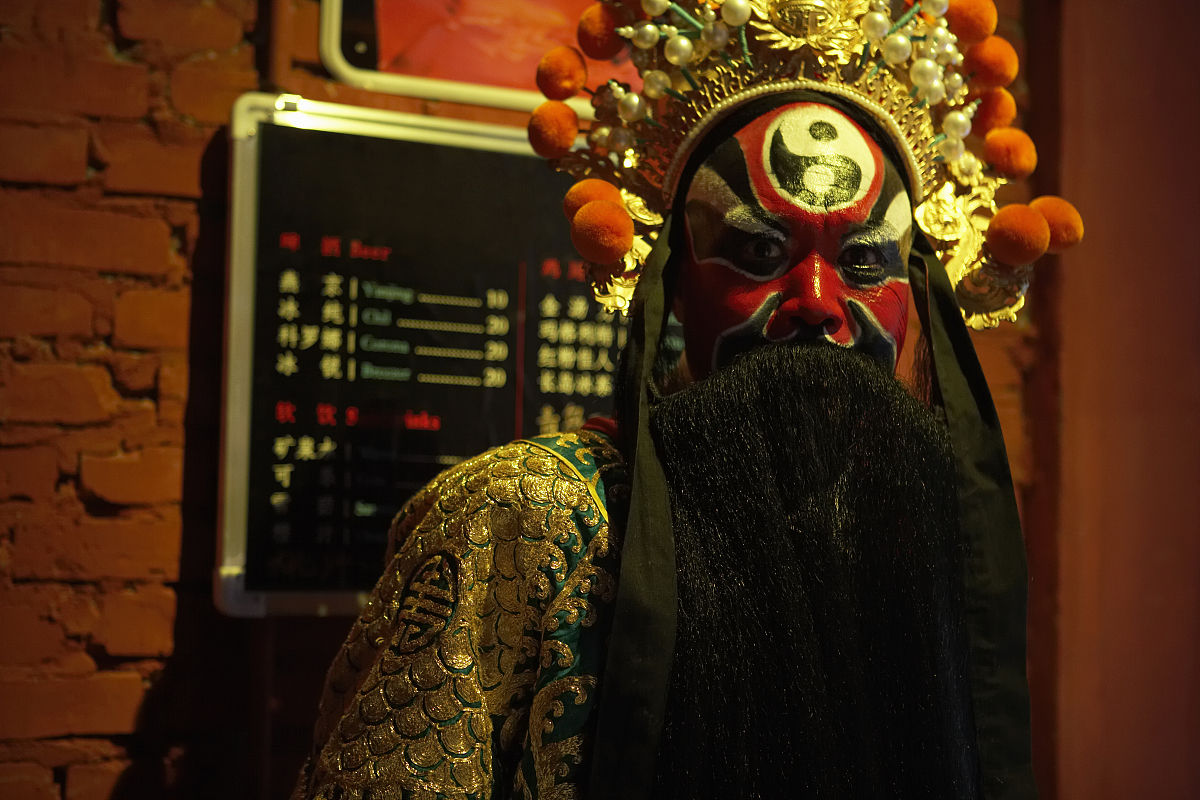 Chou (?): refer to painted-face role, know popularly as Xiao hualian, divided into Wenchou (??), Wuchou (??), Nüchou (??)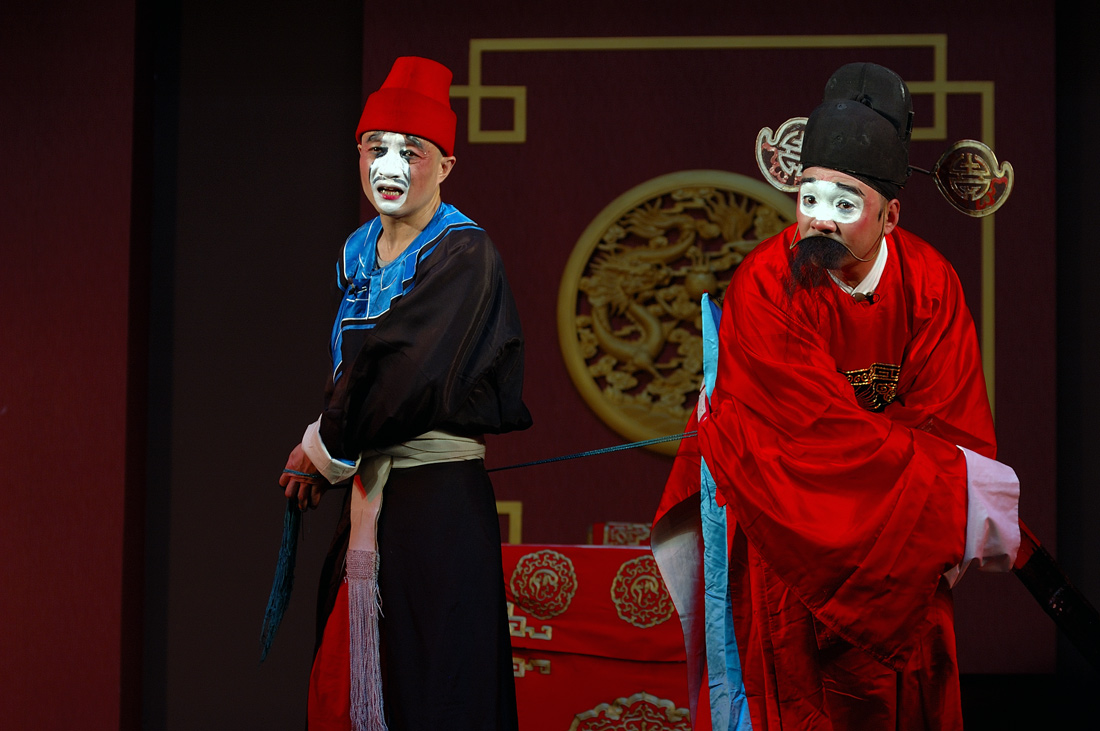 Training
Becoming a Peking opera performer requires a long and arduous apprenticeship beginning from an early age. Before the 20th century, pupils were often handpicked at a young age by a teacher and trained for seven years on contract from the child's parents. Since the teacher fully provided for the pupil during this period, the student accrued a debt to his master that was later repaid through performance earnings. After 1911, training took place in more formally organized schools. Students at these schools rose as early as five o'clock in the morning for exercises. Daytime was spent learning the skills of acting and combat, and senior students performed in outside theatres in the evening. If they made any mistakes during such performances, the entire group was beaten with bamboo canes. Schools with less harsh training methods began to appear in 1930, but all schools were closed down in 1931 after the Japanese invasion. New schools were not opened until 1952.
Sheng
The Sheng (?) is the main male role in Peking opera. This role has numerous subtypes. The laosheng is a dignified older role. These characters have a gentle and cultivated disposition and wear sensible costumes. One type of laosheng role is the hongsheng, a red-faced older male. The only two hongsheng roles are Guan Gong, the Chinese god of sworn brotherhood, loyalty and righteousness, and Zhao Kuang-yin, the first Song Dynasty emperor. Young male characters are known as xiaosheng. These characters sing in a high, shrill voice with occasional breaks to represent the voice changing period of adolescence. Depending on the character's rank in society, the costume of the xiaosheng may be either elaborate or simple. On-stage, xiaosheng actors are often involved with beautiful women by virtue of the handsome and young image they project. The wusheng is a martial character for roles involving combat. They are highly trained in acrobatics, and have a natural voice when singing. Troupes will always have a laosheng actor. A xiaosheng actor may also be added to play roles fitting to his age. In addition to these main Sheng, the troupe will also have a secondary laosheng.
Dan
The Dan (?) refers to any female role in Peking opera. Dan roles were originally divided into five subtypes. Old women were played by laodan, martial women were wudan, young female warriors were daomadan, virtuous and elite women were qingyi, and vivacious and unmarried women were huadan. One of Mei Lanfang's most important contributions to Peking opera was in pioneering a sixth type of role, the huashan. This role type combines the status of the qingyi with the sensuality of the huadan. A troupe will have a young Dan to play main roles, as well as an older Dan for secondary parts. Four examples of famous Dans are Mei Lanfang, Cheng Yanqiu, Shang Xiaoyun, and Xun Huisheng. In the early years of Peking opera, all Dan roles were played by men. Wei Changsheng, a male Dan performer in the Qing court, developed the cai qiao, or "false foot" technique, to simulate the bound feet of women and the characteristic gait that resulted from the practice. The ban on female performers also led to a controversial form of brothel, known as the xianggong tangzi, in which men paid to have sex with young boys dressed as females. Ironically, the performing skills taught to the youths employed in these brothels led many of them to become professional Dan later in life.
Jing
The Jing (?) is a painted face male role. Depending on the repertoire of the particular troupe, he will play either primary or secondary roles. This type of role will entail a forceful character, so a Jing must have a strong voice and be able to exaggerate gestures. Peking opera boasts 15 basic facial patterns, but there are over 1000 specific variations. Each design is unique to a specific character. The patterns and coloring are thought to be derived from traditional Chinese color symbolism and divination on the lines of a person's face, which is said to reveal personality. Easily recognizable examples of coloring include red, which denotes uprightness and loyalty, white, which represents evil or crafty characters, and black, which is given to characters of soundness and integrity. Three main types of Jing roles are often seen. These include tongchui, roles that heavily involve singing, jiazi, roles with less emphasis on singing and more on physical performance, and wujing, martial and acrobatic roles.
Chou
The Chou (?) is a male clown role. The Chou usually plays secondary roles in a troupe. Indeed, most studies of Peking opera classify the Chou as a minor role. Chou roles can be divided into Wen Chou, civilian roles such as merchants and jailers, and Wu Chou, minor military roles. The Wu Chou is one of the most demanding in Peking opera, because of its combination of comic acting, acrobatics, and a strong voice. Chou characters are generally amusing and likable, if a bit foolish. Their costumes range from simple for characters of lower status to elaborate, perhaps overly so, for high status characters. Chou characters wear special face paint, called xiaohualian, that differs from that of Jing characters. The defining characteristic of this type of face paint is a small patch of white chalk around the nose. This can represent either a mean and secretive nature or a quick wit. Originally, there were five roles in Beijing Opera, but the last role "Mo" became a part of "Chou".
Peking-opera houses in Beijing
Fundamental to the performance and overall ambience of traditional Peking opera is the venue. There are many restored venues in Beijing dating from the late 17th century onwards, the opera stage at Prince Gong Mansion, Zhengyici-xi-lou and Huguang Guild Hall, being among them. However, modern venues for the general operatic and theatre stage are also common, such as the National Centre for the Performing Arts, and the Chang'an Grand Theatre located on the East Chang'an Avenue is an example of modern Peking opera theatre.
Famous artists

Mei Lanfang
Mei Lan (22 October 1894 – 8 August 1961), better known by his stage name Mei Lanfang, was one of the most famous Peking opera artists in modern Chinese theater. He was exclusively known for his female lead roles (dan) and particularly his "verdant-robed girls" (qingyi), young or middle-aged women of grace and refinement. He was considered one of the "Four Great Dan", along with Shang Xiaoyun, Cheng Yanqiu, and Xun Huisheng.
Zhou Xinfang
Zhou Xinfang (14 January 1895 – 8 March 1975), also known by his stage name Qilin Tong or Qilin Boy, was a Peking Opera actor who specialized in its "old male" (??, laosheng) role. He is considered one of the greatest grand masters of Peking Opera, and the best known and leading member of the Shanghai School of Peking Opera. He was persecuted and died during the Cultural Revolution.
Meng Xiaodong
Meng Xiaodong (December 9, 1908 – May 26, 1977) was a Shanghai actress of Peking opera. In August 1925 she was introduced to Mei Lanfang, with whom she collaborated in a film and married in 1927. At the time, Mei was already to two other women. They divorced in 1933. In spring 1949 she went to British Hong Kong and married Du Yuesheng in 1950, after which she effectively ended her acting career. In 1967 she immigrated to Taiwan and died in Taipei at the age of 69. She was interred in Shulin District, New Taipei City.