Introduction:
The Legend of Kung Fu Show is a mix of traditional martial arts and modern theatre. Presenting stunning Kung Fu skills, exquisite ballet and music, this beautiful story in no doubt has become the most loved Kung Fu show in China. The show made its first appearance on the Beijing stage in July 15th 2004. Ever since it has received numerous awards and become a world class spectacle known around the world.

Stroy of the show:
The story tells of about a young boy who dreams of becoming a Kung Fu master and attain enlightenment. He takes the path of a monk in which he must face many obstacles both from this world and his own mind to overcome his fears and to become a true master of Kung Fu.
Background:
Red Theatre specializes in traditional Chinese performances and had it's first premiere of "The Legend of Kung Fu" show in 2004. Up to this day the theatre has hosted dialy performances of the show developed by China Heaven Creation which is focused on big stage dance productions. The theatre wa originally known as the "Chongwen Worker's Cultural Palace Theatre". To support the overwhelming success of the show, the theatre was rebovated renamed as "Red Theatre".

More Information about the venue and ticktes:
Performed daily at the Red Theatre, the venue is conveniently located near the Temple of Heaven in Dongcheng District of Beijing. Easily accessible by subway (see directions) at Tiantandongmen station on line 5. During the high season there are two daily shows at 5:15PM and 7:30PM, while the lower season hosts only the evening performance.

Tickets must be booked in advance and bought from the Red Theatre ticket window with your personal booking number to receive a discount. Due to the popularity of the show, tickets are often sold out. Reserve now to ensure availability!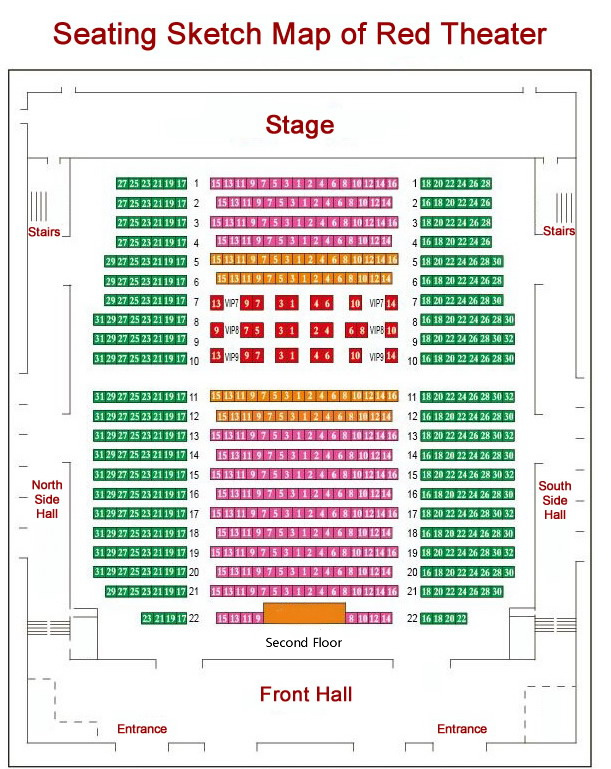 Our Discount Price for the show as below:

Second Floor Seats

140RMB


Green Zone

(side seats)

190RMB


Pink Zone

( Mid-section: 1-4 and 13-22 rows )



260RMB


Yellow Zone

( Mid-section / 5-6 and 11-12 rows )

330RMB


Red Vip Zone

( Mid-section / 7-9 rows )

600RMB