Badachu Park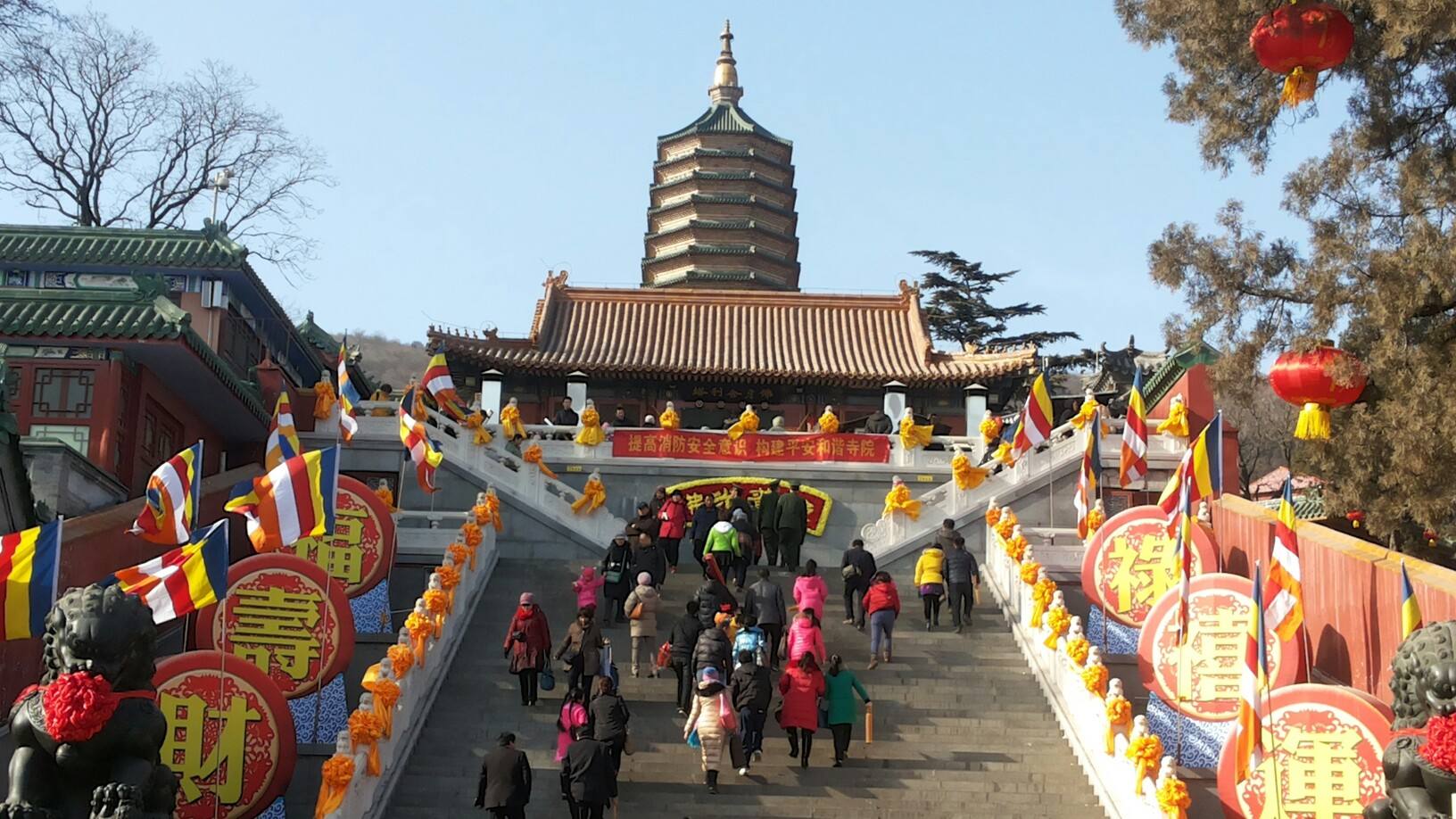 Introduction
Badachu Park is located 17-kilometers away from Beijing's center and south of Fragrant Hills. Eight temples and shrines are scattered among the Western Hills. Badachu Park covers 332 hectares; its highest peak juts 464-meters into the sky, and among the first national key units of cultural relics for preservation in the city. The park has a desirable climate, which is cool in the summer and warm in winter. More than 97 percent of the area's mountains are covered with trees.

The oldest of the eight ancient temples is Bachu Zhengguo Temple, its construction lasting from the late Sui Dynasty to the Early Tang Dynasty. Construction lasted through the Song, Yuan, Ming and Qing dynasties. The largest temple is Xiangjie Temple-a temporary imperial palace for Emperor Kangxi and Emperor Qianlong during their brief stays. Although Badachu Park was named after eight ancient temples, some stone inscriptions engraved on the cliffs can date back to as early as the Ming Dynasty, which had become the ninth attraction site in Badachu Park, since its discovery in 2000. Many stone inscription hobbyists and Buddhists have visited.

In recent years, Badachu Park is the best place for mountian climbing, bodybuilding, leisure and recreation. According to mountain features, four mountain climbing routes were designed..

The Badachu Chinese Garden & Tea Culture Festival is held in April and the Badachu Mounting-climbing Fair is held during the Chongyang Festival. A Chinese calendar festival is also staged in October. Activities attract many domestic and foreign tourists.

Features: Cultural activities in the spring, walking in the Red Autumn Leaves on Xiangshan (Fragrant Hills)—all are welcome to the Xiangshan Red Leaf Festival to enjoy the beauty of red autumnal leaves.

Annual traditional cultural events
1. Badachu Chinese Garden & Tea Culture Festival (successfully held annually)
2. Badachu Mounting-Climbing Fair on Double Ninth Festival (successfully held annually)

Schedule of traditional cultural activities:
1. Badachu Chinese Garden & Tea Culture Festival (from late April to early or mid-May)
2. Badachu Mounting-Climbing Fair on the Double Ninth Festival (from late September to mid or late October)


Information
Address: Badachu, Shijingshan District
Tel: +86 10 8896 4661
Opening Hours: 06:00-17:00 (April 16-August 31); 06:00-18:30 (September 1 November 15); 06:00-18:00 (November 16-April 15)
Admission: CNY10

How to get there
Bus Route: Take City Bus No.347, 389, 662 and 972, get off at Badachu Station.
Metro Route:Take Line 1 to Pingguoyuan Station and get out from the northeast exit C. Then take bus 972 heading for Badachu Station at the Pingguoyuan Ditie Beimen Bus Stop. Or you can get off at Bajiao Leyuan Subway Station and take bus 598 at Jingyuan Lukou East Station or bus 958 at Jingyuan Lukou West Station.