Gubeikou Great Wall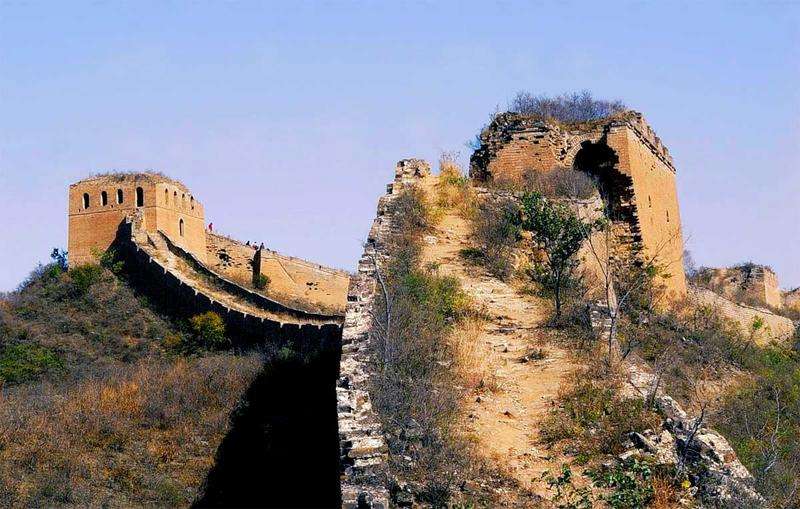 Overview
Gubeikou, situated in Beijing's Miyun County, is 125 kilometers away from Beijing proper. It has long been a town of military significance and an important passage to the capital city. The Yanshan Range winds from east to west and is cut off at Gubeikou, forming a natural narrow pass here.
To the west of the pass are the Chaohe River and the Wohu Mountain, and to the east is the Panlong Mountain. From ancient times, Gubeikou has served as a route of strategic importance, linking the southern and northern areas of the Yanshan Range.
History & Bacground
As early as 2,500 years ago, a fortification was built here and was constantly reinforced throughout the following dynasties. The earliest Great Wall construction began in 556 during the Northern Qi Dynasty, but it was built with dirt and stone, and it's not well preserved. The best preserved watchtower of the Northern Qi Great Wall there is 'Big Flower Tower' (Dahualou).
After about 800 years, in the Ming Dynasty (1368–1644), the Gubeikou Great Wall was extended and enhanced with more beacon towers and pass gates. The last construction took place in 1567. No rebuilding or renovation was done since then.
Construction & Architecture
The main part of today's Gubeikou Wall was constructed under the supervision of Xu Da, a noted general in the Ming Dynasty. It runs for more than 20 kilometers and consists of four sections: Wohushan, Panlongshan, Jinshanling, and Simatai. It has 143 beacon towers, each positioned at an average interval of 156 meters. The nearest two are only 30 meters apart. The inside of these towers varies in design.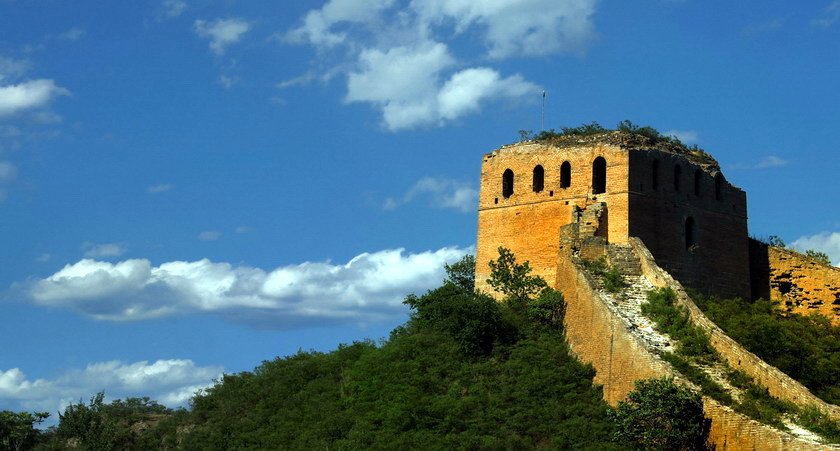 While some have a flat ceiling, others either have an arched ceiling, a domed ceiling, or an octagonal, painted ceiling. Each tower has two floors, six archways, and ten arched doors, allowing garrisoned soldiers to advance and retreat freely. The towers are also different in size. The largest one can accommodate a garrison of 100 soldiers, and the smallest one a garrison of 10 soldiers. The towers often have one to six portholes.
Information
Location: 146 kilometers (90 miles) from Beijing, 2 hours' drive.
Features: Wild and unrestored, Gubeikou protected an important pass to Beijing from northern Mongol areas. Over 130 battles happened there.
Facilities: None
Best times to go: spring and autumn
Tour The Gubeikou Great Wall with Beijing Private Tour
We will provide a private & spacious car and a local professional tour guide with over 5 years guiding experience only work for you or your group. You will be escorted during your tour. Transport, ticket, and dining (At some local restaurants popular with locals) all we will arrange for you according your requirements. Please check our most popular Beijing Tours including The Gubeikou Great Wall as below:

{????}
Are the above sample tour programs not suitable for you? We have more Great Wall Tours. Our tours can be tailor-made based on your requirements and budget to create unique Great Wall Tour experiences that allow you to interact with the local people and culture. Our enthusiastic tour expert will promptly reply you in details within 24 hours. Email to: [email protected]