Chairman Mao Memorial Hall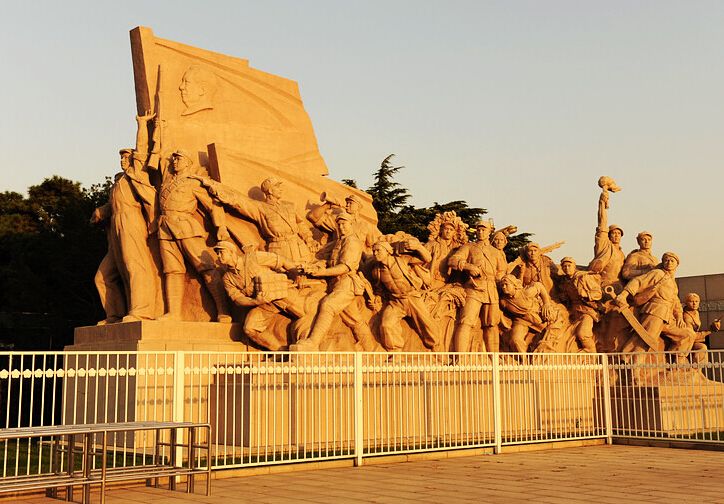 Introduction
The chairman Mao Zedong Memorial Hall stands on the former sits of Zhonghuamen Gate at the southern end of Tian'anmen Square between the Monument to the People's Heroes and Zhengyangmen Gate.
Red Sichuan granite at its base and trees around the hall is designed on principles of symmetry and "centrality." Sculptures north and south supplement the artistic rendering of national struggle presented on the Monument to the People's Heroes.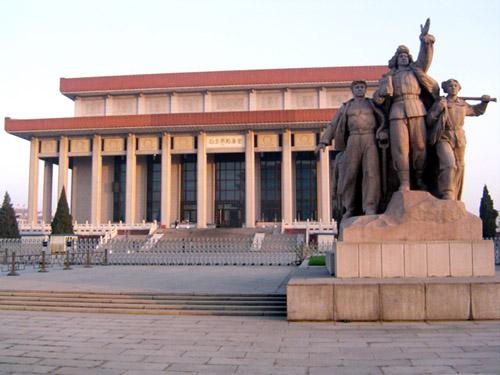 The first floor is open to the public. Behind the white marble status of Chairman Mao is an immense tapestry of China's mountains and rivers.

In the Hall of Mourning, the heart of the mausoleum, lies Mao (1893-1976) in his usual gray suit, draped with the red flag of the Communist Party, in a crystal casket. The rare Phoebe nanmu wood of the doors and walls was carted north from a peak on Hainan Island under the supervision of Zhou Enlai.

Out the back is a small open area, formerly known as Chessboard Street, which served as a busy hub of commerce in the Ming Dynasty. The Qianmen area, one of the Beijing's busiest commercial districts, lies beyond.


Information
Location: At the south of Tian'anmen Square.
How to get to visit: Take bus 1, 2, 4, 17,20, 52, 57 and 802 and get off at Tian'anmen Station. Or tourists can take subway and get off at Tian'anmen and Qianmen Station.
Ticket Price: Free
Opening Hours: 8:00 a.m.- 12:00 p.m(closed on Monday)