Day 1 Harbin Arrival
Place&Transport: Harbin
Today's Activities: St. Sofia Church, Central Street, Flood Control Monument, Zhaolin Park (Ice Lantern Art Show)
Accommondation: Three, Four or Five Stars Hotel (Can be customized) in Harbin
Meal: N/A
Pick up service is arranged at Harbin train station/airport, our local guide will meet you with a welcome signage "Harbin Private Tour" . Then drive to your hotel directly check-in first.
After a short rest, you will be taken to visit the St. Spohia Church. The Cathedral of the Holy Wisdom of God or Saint SophiaCathedral in Harbin is a former Russian Orthodox church located in the central district of Daoli, Harbin City, Heilongjiang Province, China.St. Sophia Orthodox Cathedral is one of the most magnificent structures inHarbin.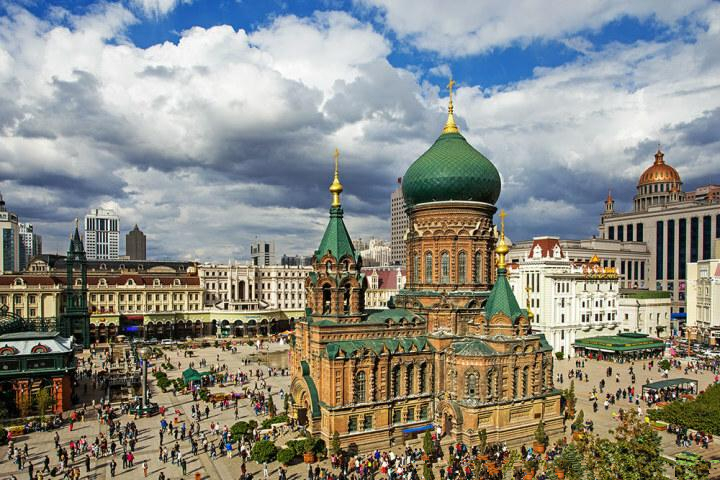 Then, walking on the historical Central Street. The Central Avenue is dubbed as "a gallery of European architectural art." The street, lined with a large number of Western architecture, is a must-see in Harbin. People who have never visited Moscow, Paris or Rome can gain a feeling and appreciation for the architecture of those cities by visiting the Central Avenue in Harbin.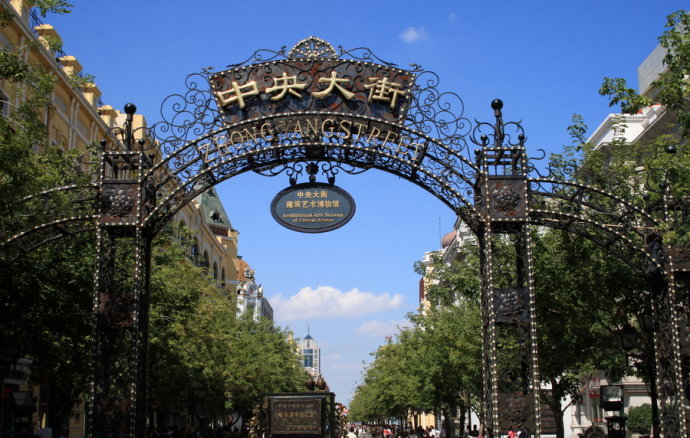 In the late afternoon, head to the Flood Control Monument, The Harbin Flood Control Monument was built on October 1, 1958 to commemorate the victory of Harbin people over the "57 year flood". It was jointly designed by bajis zyelev, a former Soviet designer, and Li Guangyao, the second generation architect of Harbin University of technology. The tower site was determined by LV Qien, then mayor of Harbin.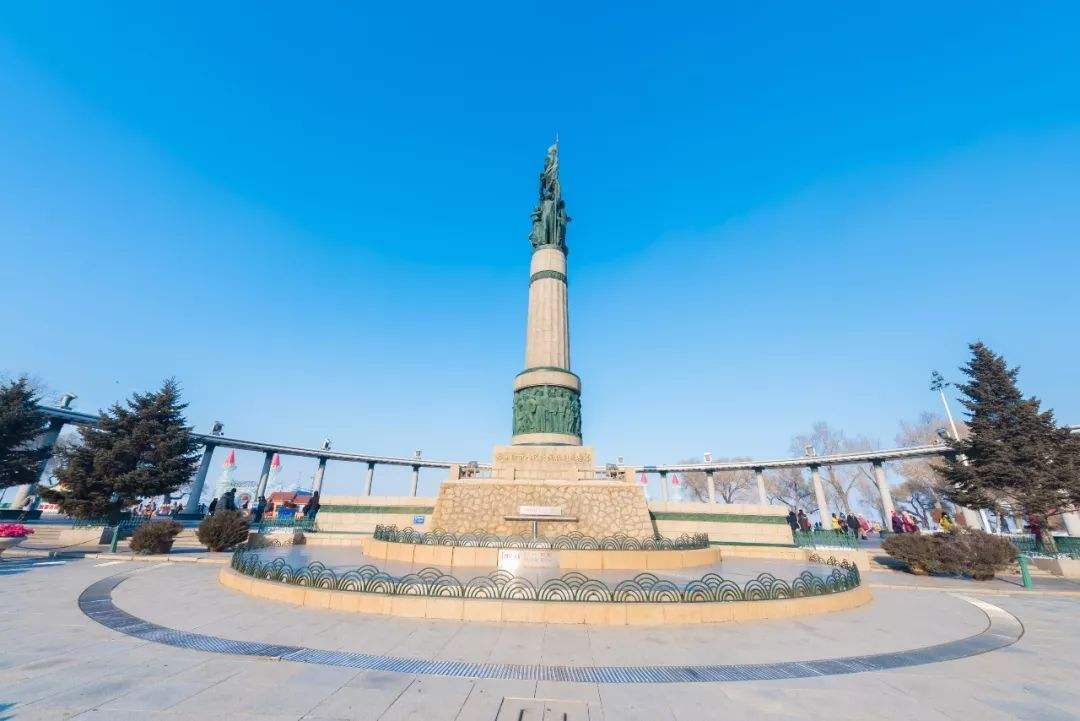 In 7:00pm at night, moving to Zhaolin Park to watch the Ice Lantern Art Show. Zhaolin Park is one of the three main competition and display venues of the world's biggest ice and snow festival in Harbin. The annual festival grew from a comparatively small fair in 1999 to become the world's biggest winter festival. Zhaolin Park is the display area for the ice lanterns and should be visited when it is dark. Making ice lanterns has been a tradition in the area for centuries at least. The annual ice lantern displays in Zhaolin Park started in 1985. These built interest in starting an international festival in 1999.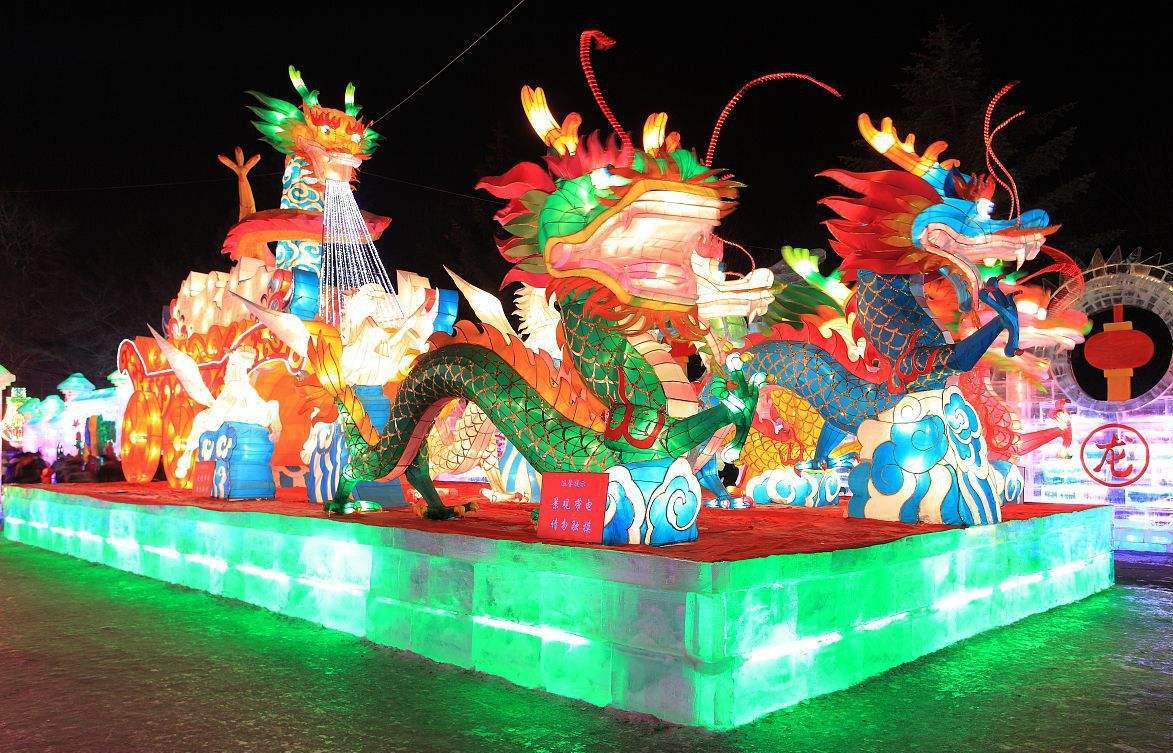 After enjoy the attractive and awesome Ice Lantern Art Show, drive you back to your hotel.
Day 2 Harbin-Mudanjiang
Place&Transport: Harbin
Today's Activities: China Snow Town
Accommondation: Normal hotel or home stay in China Snow Town
Meal: B,L
Check out from your hotel in the morning. Our guide will meet you in the hotel lobby, then drive to Mudanjiang city directly, where China Snow Town located (around 6 hours).

Upon your arrival at China Snow Town, check in and have lunch at local restaurant first. After lunch, taking you to walk around the China Snow Town (Xuexiang). China's Snow Town, is located in Mudanjiang city, Heilongjiang Province, at the north end of China. In winter, heavy snow covers everything and makes the farm a white wonderland. In spite of the cold weather, the beautiful snow scenery attracts more than 500 thousand tourists annually. Here are three must-visit spots.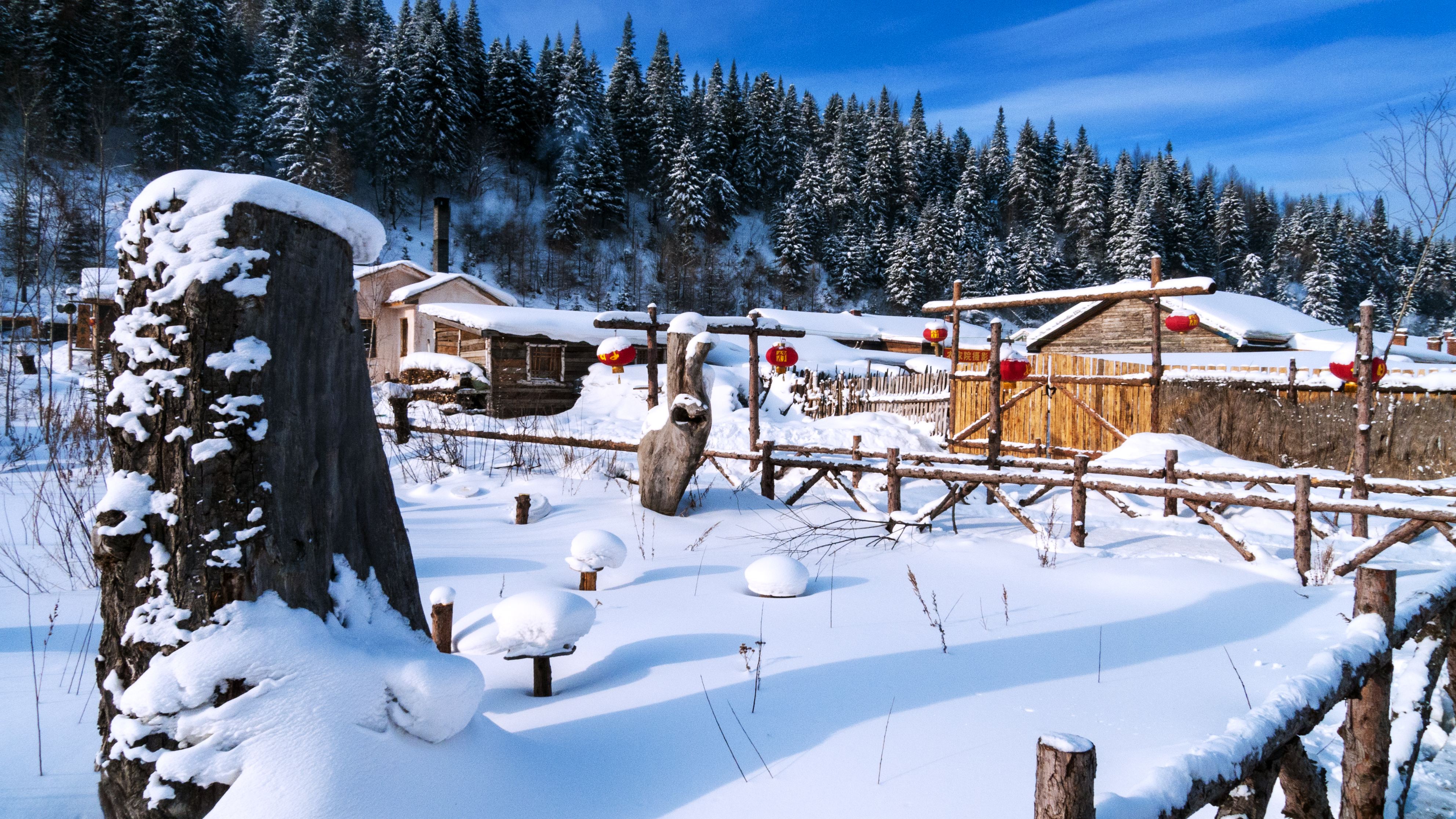 Then, move on to Xueyun Street. This 500-meter-long street is always bustling at night. It is located at the town center and lined by grocery stores, restaurants, theaters and hotels. There are a lot of snacks, including ice stick, Bing Tang Hulu (sugar-coated hawthorn on a stick) and kebabs. In addition, you can buy mushrooms and nuts handpicked by locals.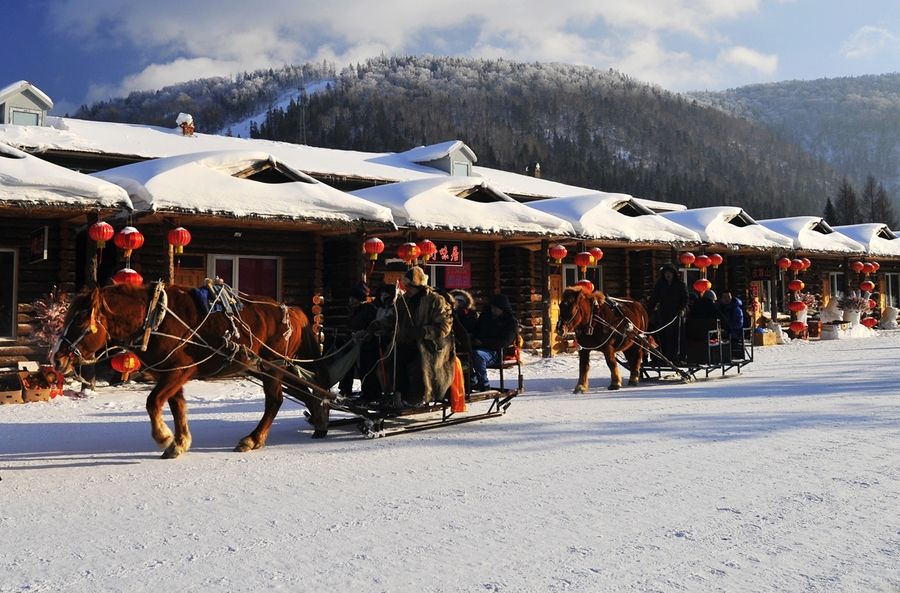 Continue to visit the Dream House (Meng Huan Jia Yuan Studio), it is the most attractive spot and must visit place in snow town for someone whos like photography. Tourists are also drawn to this area because several TV shows were shot here, including the popular reality show "Where Are We Going, Dad?" Covered by thick snow, the little wooden houses are transformed into white horses, rabbits, turtles and giant mushrooms. Moreover, the red lanterns hanging under the eaves complete a joyful and dreamlike atmosphere to the landscape.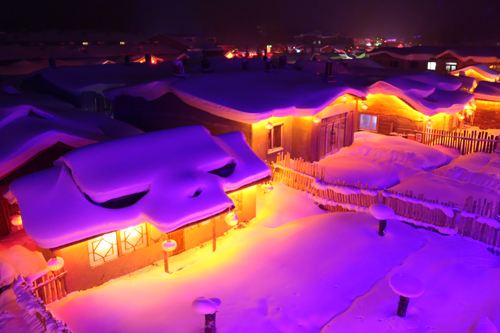 After dinner, you can enjoy the local performance called Er Ren Zhuan (two people dancing performance). Two-people Rotation is a genre of local folk dance and song from Northeast China. It usually consists of two people, a boy and a girl. They sing as well as dance, using folded fans or red square handkerchiefs (which are twirled along as a song is performed) during the dancing portion. It is very popular due to its humorous dialogue and sketches, which have eclipsed the old dances and songs.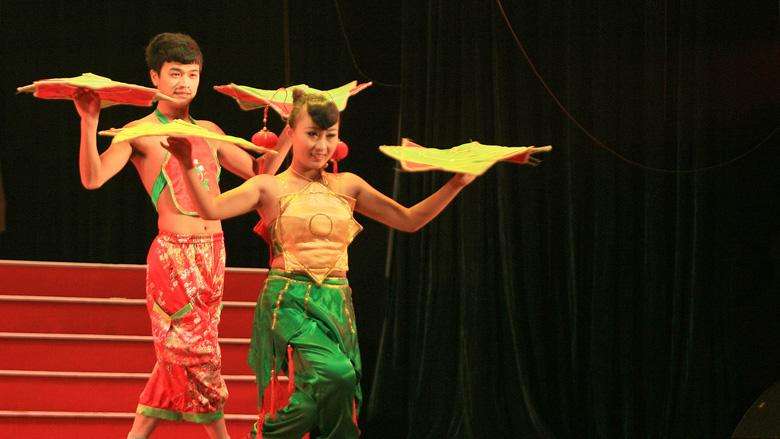 Er ren zhuan is now becoming better known in the rest of China, because many er ren zhuan performers have performed on television, as well as acted in TV serials; Zhao Benshan is the most famous example.
After the tour, drive you back to your hotel in snow town.
Day 3 Mudanjiang-Harbin
Place&Transport: Mudanjiang (China Snow Town)
Today's Activities: Yangcaoshan Mountain, Drive to Harbin
Accommondation: Three, Four or Five Stars Hotel (Can be customized) in Harbin
Meal: B,L
Pick up from your hotel by our guide. The first stop for today will lead to a nearby mountain, Yangchao Mountain. You will hik up to the mountain, which is the best way to enjoy the charming snow view and an ideal place to escape from the bustling and hustling woorld. It is located on the northwest side of Snow Town, it is highest mountain in this area with a height of 1,200 meters, arrived before sunrise because it's a good place to enjoy the sunrise scenery (around 3 hours). Back to the snow town and have a simple lunch.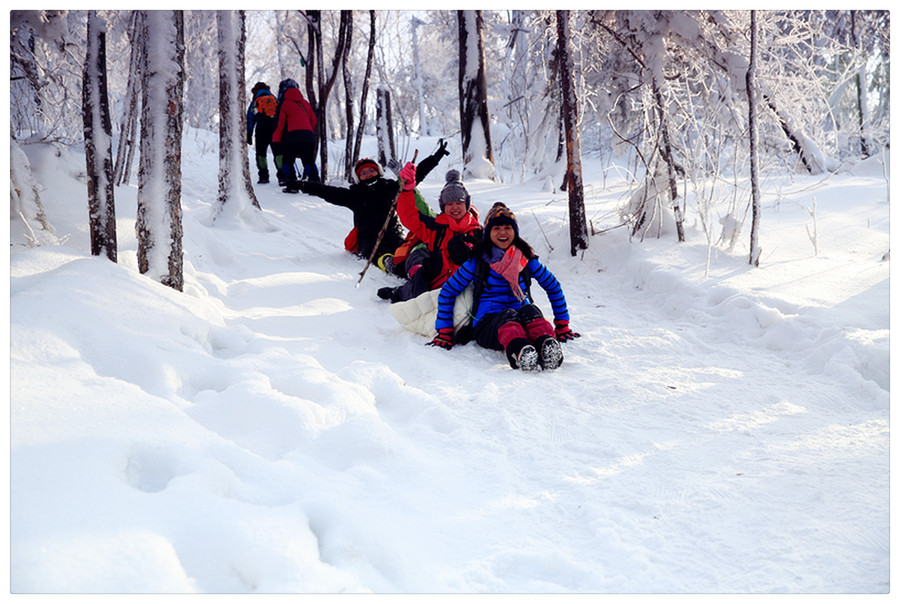 After lunch,drive back to your hotel in Harbin.
Day 4 Harbin
Place&Transport: Harbin
Today's Activities: Sun Island,Siberian Tiger Park,Ice and Snow World
Accommondation: Three, Four or Five Stars Hotel (Can be customized) in Harbin
Meal: B,L
Pick you up at your hotel lobby. The first stop is Sun Island, Sun Island International Snow Sculpture Art Expo, also known as Sun Island International Snow Sculpture Art Fair, is the birthplace and leader of the international snow sculpture art. Together with Harbin Ice and Snow World, Harbin Ice Lantern Fair at Zhaolin Park, it is known as one of the most important three theme parks of the Harbin International Ice and Snow Sculpture Festival. And due to its long exhibition period (60-70 days), high quality, various cultural themes, large scale and interesting activities, the expo is also known as "the world's largest ice and snow carnival". Snow Wonderland, a 3D snow-light show applying modern sound, light and digital technologies has been displayed at Sun Island International Snow Sculpture Art Expo recent days.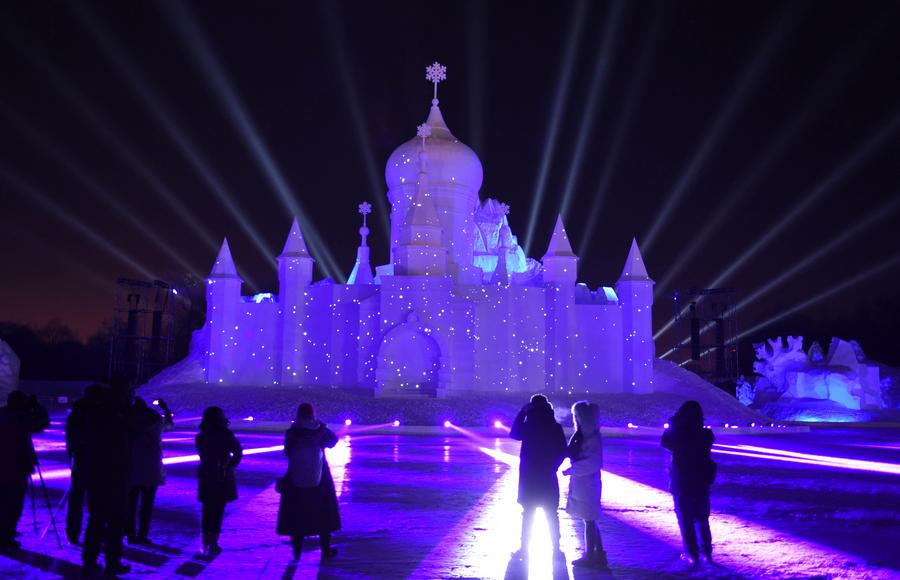 After lunch, head to the Siberian Tiger Park, which is most adventurous part of the tour. This park is located on the northern side of the Songhua River and neighbors the Sun Island. Covering an area of 1,200,000 square meters, the park is considered the one and only place in the world to admire the purebred and scarce Siberian tiger (aka Manchurian tiger), one of the world's top 10 endangered animals. In the park, tourists can feed the tigers with meat even take photos with them.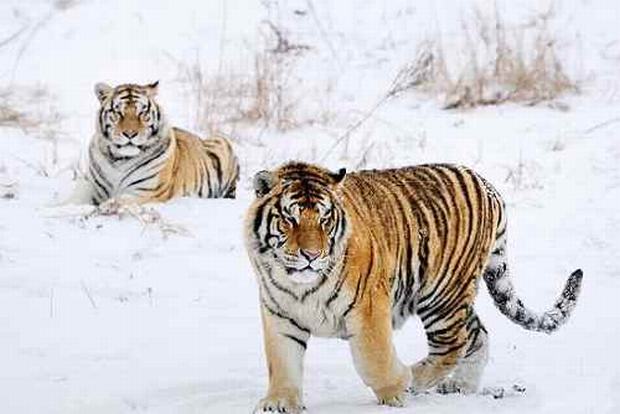 In the evening, you will visit the Harbin Ice and Snow World. Located in the middle of Songhua River, with a total length of 1030 meters and a maximum width of 25 meters. It covers an area of nearly 200000 square meters and uses a total of 60000 cubic meters of ice. It was founded in 1999 by Harbin Municipal Government to welcome the Millennium celebration of "Shenzhou century Tour". With the advantages of Harbin's ice and snow season, it launched a large-scale ice and snow art boutique project.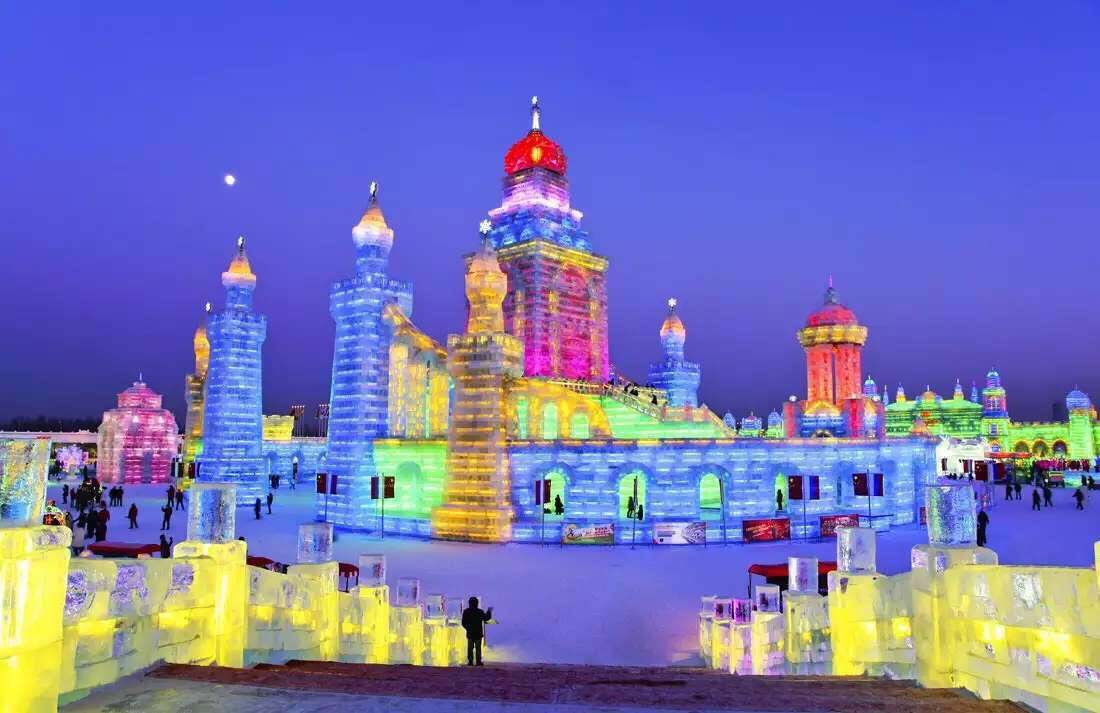 Drive back to your hotel.
Day 5 Harbin Departure
Place&Transport: Harbin
Today's Activities: Transferred to Harbin train station/airport
Accommondation: N/A
Meal: B
Free on your own to enjoy your leisure time to explore this city until your tour guide and driver escort you to the train station/airport for your next destination. Our service ends.
Price Per Person in US Dollars